Friday, September 19th, 2014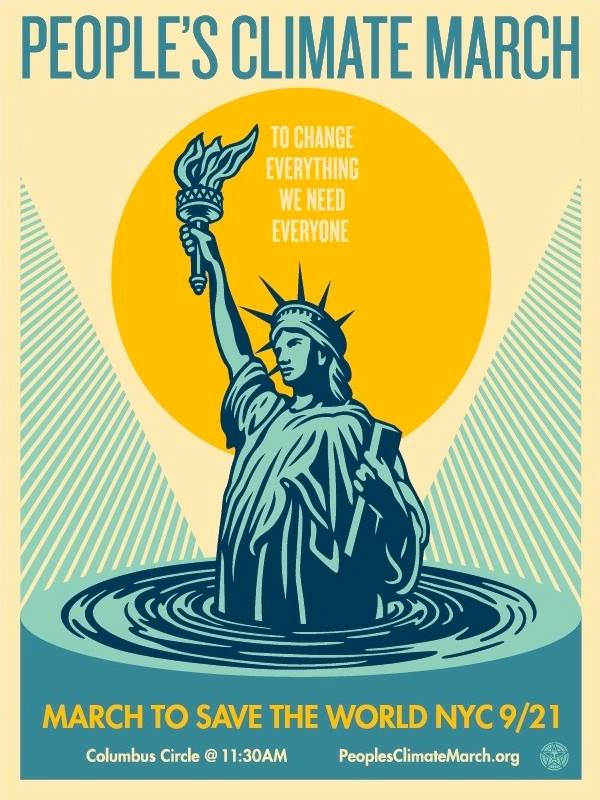 Millions of people take to the streets this weekend around the world — with tens of thousands headed to New York City for the People's Climate March — to show that people want action from global leaders, not more talk when it comes to responding to the growing climate crisis.
Investigative journalist Mark Schapiro, author of Carbon Shock, has pulled together some key facts that all climate marchers should know about the climate and the economy — today, and going forward as climate talks take shape next year in Paris.
THE COSTS
Climate change is the biggest economic challenge of our times. The world's two biggest economies—the US and Europe—estimate hundreds of billions of dollars in costs from heat waves, floods, and an accelerating wave of climate refugees fleeing lands on which they can no longer sustain themselves.
WHO PAYS?
The public takes the risk and the fossil fuel intensive industries make the profits. That's why the true costs of fossil fuels are called 'externalized' costs—costs that are often hidden through dishonest, but perfectly legal, accounting. Who pays those costs? Taxpayers. You and me.
WHO'S RESPONSIBLE? The Companies
Just 90 companies are responsible for two-thirds of greenhouse gas emissions. Three thousand of the world's biggest companies cause $2.15 trillion in annual environmental costs, most of those relating to climate change, according to a UN report.
WHO'S RESPONSIBLE? The Consumers
A quarter of China's greenhouse gases can be attributed to the production of goods for export to the US and Europe. Who is responsible for those emissions: the producer or the consumer?
THE TRADE WARS
The first climate trade war is being fought by the US, China & Russia against Europe, over the European Union's effort to regulate greenhouse gases coming from airplanes, which contribute more greenhouse gases to the atmosphere than any other form of transportation.
FOOD & WATER
Two of the greatest threats to the US government's finances are the looming costs of the federally subsidized crop insurance system, due to climate-related drought and intensifying heat, and flood insurance.
AN OIL SPILL A DAY
Whether greenhouse gases are emitted from a car's gas tank in New York or a gushing oil rig off the Louisiana coast, to the planet it's the same: We're letting loose an oil spill a day into the atmosphere. Every conventional U.S car comes with $2,000 in greenhouse gas-related lifetime costs, according to a study in the Proceedings of the National Academy of Sciences.
WHAT WE MUST DO
Honest accounting: Set a global price for carbon to reflect its damage to the planet. Take the green dividend and invest in a low-carbon, equitable, economy that supports renewable energy, local food, public transportation, and livable communities.
Climate March Poster by Shepard Fairey