Friday, December 12th, 2014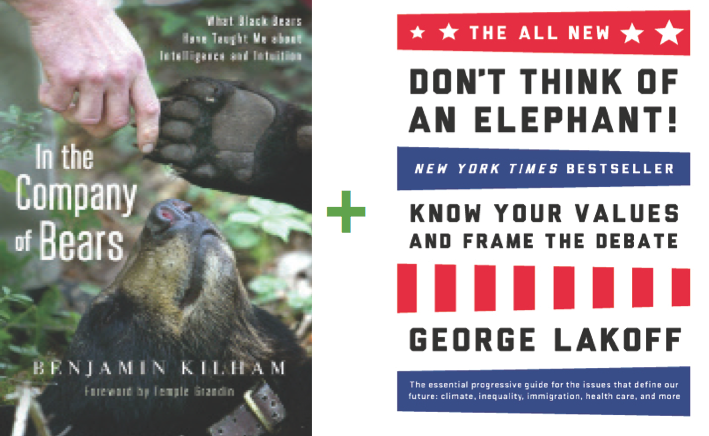 Whether you're keen on learning more about the secretive lives of black bears or how to unlock the secrets of political framing, two recent Chelsea Green books are now available in audio so you can listen in the car, at home, or wherever you prefer.
To sample the audio of either book, check out the Soundcloud embeds below.
Happy Listening!
The ALL NEW Don't Think of an Elephant!
George Lakoff's The ALL NEW Don't Think of an Elephant! (narrated by Chris Sorenson) — the revised and expanded 10th anniversary edition of his international bestseller Don't Think of an Elephant! — has been the go-to book for progressives since it was first published in 2004. Called the "father of framing" by The New York Times, Lakoff explains how framing is about ideas—ideas that come before policy, ideas that make sense of facts, ideas that are proactive not reactive, positive not negative, ideas that need to be communicated out loud every day in public. The ALL NEW Don't Think of an Elephant! picks up where the original book left off—delving deeper into how framing works, how framing has evolved in the past decade, how to speak to people who harbor elements of both progressive and conservative worldviews, how to counter propaganda and slogans, and more.
Howard Dean, the one-time presidential candidate, Vermont governor, and founder of Democracy for America, had this to say about Lakoff's new book: "The ALL NEW Don't Think of an Elephant! is a must read, every bit as important as the first edition. This time we have to train ourselves to think for the long term. Buy this book, memorize it, and teach it to your children. Progressives may be smart, but we don't communicate our ideas well. This book is the blueprint for how to do better."
Ben Kilham's In The Company of Bears (narrated by George Backman) unveils his groundbreaking work in the field of black bears. Like others, he once thought that black bears were solitary. But he discovered that they actually have extraordinary communication and interaction with each other—creating and enforcing codes of conduct, forming alliances, and even sharing territory and food when supplies are ample. In the Company of Bears (originally released in hardcover as Out on a Limb) is more than a story about bears. It's the story of a scientist once kept from a traditional science career by his dyslexia, only to find that thinking and seeing differently was his greatest gift and his best tool to interpret the non-human world.
Elizabeth Marshall Thomas, author of The Hidden Life of Dogs, had this praise for Kilham's book: "Ben Kilham's In the Company of Bears is surely the most insightful book about animals written in the last 100 years. His observation of black bears is the best ever done, his data is flawless, and these attributes have created a landmark of science that as far as I know has not been equalled with any other species. And if that's not enough, it's also a page-turner and a must-read. It left me breathless."