Monday, October 20th, 2014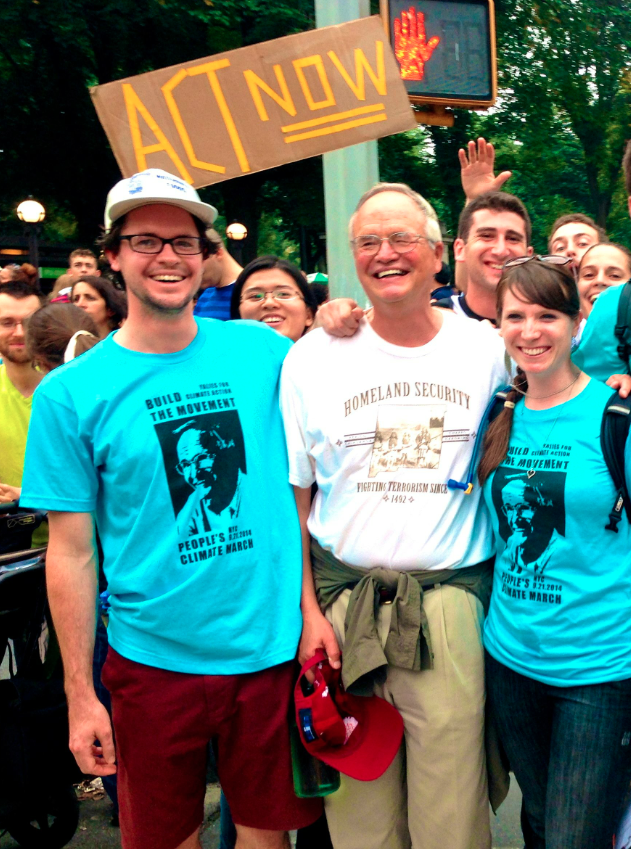 As an influential figure in America's environmental movement, Gus Speth can boast quite a remarkable resume–co-founder of the Natural Resources Defense Council, founder of the World Resources Institute, dean of the Yale School of Forestry and Environmental Studies, environmental advisor to Presidents Carter and Clinton, and the list goes on.
Yet, as a southern gentleman, boasting isn't really his style. Instead Speth prefers to acknowledge the long list of people that have helped him along the way—his "angels by the river, " as he calls them.
Speth's new memoir, Angels by the River, follows his unlikely path—from a Southern boyhood to his career as an influential mainstream environmentalist to his current system-changing activism. He explores the issues, and realities, that have shaped the nation since the 1950s, and that turned an "ultimate insider" into someone who now believes the US inaction on climate change is, as he puts it, "the greatest dereliction of civic responsibility in the history of the republic."
If you are wondering how to make a difference in this increasingly complex world and looking for inspiration, let Gus Speth's own life's arc be a guide, and his clarion call for widespread system change be your call to action. Listen to his interview on Vermont Public Radio about his reflections on the environmental movement. Chelsea Green's Shay Totten also sat down with Speth to talk about his new book and what it has been like to live his life on the front lines of change. See below for their conversation.
Angels by the River: A Memoir by James Gustave "Gus" Speth is on sale now.
****
A Conversation with Author Gus Speth
ST: Let's start with the title of the book – who are your angels, and what role did this river of your youth have in shaping your early thoughts about nature and life?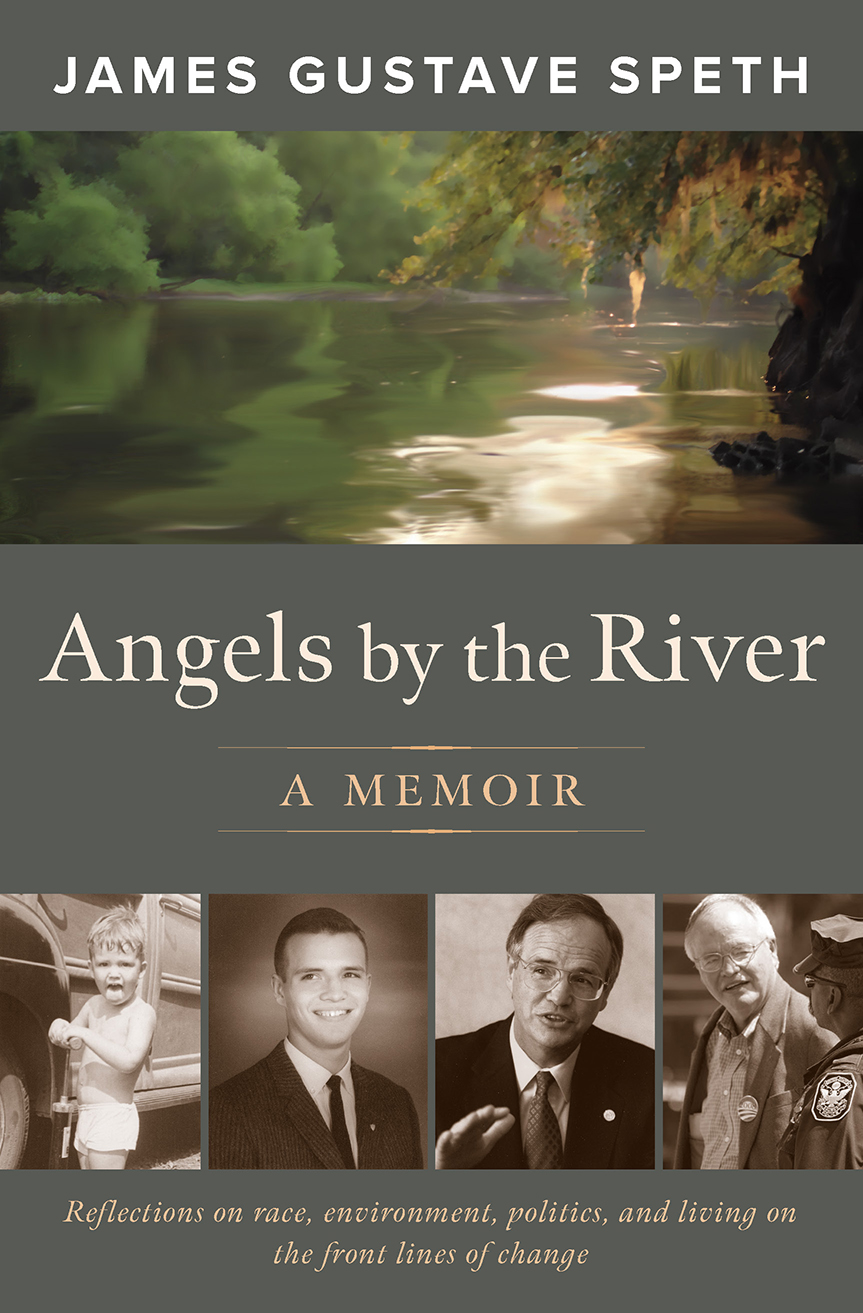 GS: Starting with a real river, the Edisto in the South Carolina lowcountry, I imagine my life as a journey down a river, and around almost every bend there have been angels waiting. It's very clear to me that without the love, support and intense collaboration of the angels in my life, starting with my family, I would have gone off in some terribly wrong directions and many key things simply would not have happened. I wrote this memoir in large part to recognize these remarkable people.
Imagination aside, the Edisto, with its dark, tannin-stained waters and ample hardwood bottomland swamps, was where I first discovered the natural world, and girls.
ST: Your hometown of Orangeburg, South Carolina was the scene of the horrific Orangeburg Massacre. That year, 1968, is often remembered as a pivotal year in US history. You were at Yale Law School at the time of the shootings, but you had been living in, and writing about, some of the tensions that preceded the shootings.
GS: In the mid 1960s I did what I could to support and encourage the moderate whites in Orangeburg to move forward on the civil rights demands of the town's black community. And they did try, indeed try hard, but without success. I relate that story in the memoir.
Orangeburg had been a hotbed of resistance to racial progress since the early 1950s, and that continued through the 1960s. This situation helped set the stage for what happened there in 1968, a great national tragedy but one that has been little noticed outside the state, even today.
ST: Did attending a Northern school – Yale University and later Yale Law School – help to shape, or reshape, your views about the world, and in particular that of race? If so, how? What did you intend to study at Yale, and what did you end up studying?
GS: I devote a chapter in the memoir to what happened to me when I "went North" to school. The chapter is called "Things Fall Apart," and at Yale my views on race, society, and the South did in fact come crashing down around me. As I explain in Angels by the River, that can be a terrifying experience, but I discovered in the end that that unmooring from the past was entirely liberating and that I was free to think afresh about the world. I realized also that I had uncritically accepted the status quo and that I never wanted to do that again.
I went to Yale to study science and was a biochemistry major for two years, but in the nick of time I realized I wasn't getting a rounded liberal arts education and so switched to political science and later to an individualized curriculum Yale allowed me to create.
ST: You helped found the Natural Resources Defense Council. What was missing from the environmental movement at the time that the NRDC was created? Did it achieve what you had hoped?
GS: When big new causes open up, as happened for the environment in the late 1960s, there often occurs an intense period of institution building—a creative period when organizations rise to meet the occasion. In a chapter called "The Greening," I describe how I and others, seeing the moment, were able to launch two much-needed environmental groups, NRDC and the World Resources Institute. Both are powerhouses today. I often joke that all my groups do better after I leave.
I shudder to think where we would be without the successes of our mainstream environmental groups, but it is obvious now that America's mainstream environmentalism is not up to today's environmental challenges, like climate change.
ST: What changed for you personally that led you, someone known for groundbreaking legal and policy work, to get arrested in front of the White House?
GS: In 2012 Wen Stephenson interviewed me for an online article and when it appeared, here was the title: "'Ultimate Insider' Goes Radical." I spend a generous portion of the memoir describing how a conservative, Southern white boy became a civilly disobedient, older, still white guy bent on transformative change to a new system of political economy. Among other things, we'll need a new environmentalism in America to make this transition, one that is deeply committed not just to traditional environmental goals but also to challenging consumerism and commercialism and the lifestyles they offer, rejecting growthmania and pioneering a redefinition of what society should be striving to grow, challenging corporate dominance and seeking a redefinition of the corporation and its goals, joining the struggle for social justice and fairness, and launching a powerful assault on the anthropocentric and contempocentric values that currently dominate American culture.
To drive these deeper changes we'll need a powerful movement and the rebirth of activism, protests, demonstrations, and sometimes civil disobedience.