Friday, February 27th, 2015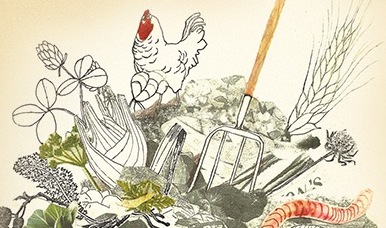 Dig in to the latest news and opinions from Chelsea Green and our authors, as well as tips and techniques about how you can bring our books to life in your kitchen, backyard, or community, plus special offers and new releases!
Survive the Winter Blues: Read, Eat and Plan
There is no denying it: the days are shorter and unless you planned for season extension your garden is all about the root vegetables.
But don't let winter get you down. We've prepared the perfect cabin fever remedy with our winter reading list. Throw another log on the fire, grab a blanket, and tuck in with these new and classic favorites. 
Read it »»
Hybrid Hazelnuts – A New Resilient Crop for a Changing Climate

Hybrid hazelnuts are designed to address a host of problems with conventional modern agriculture. They are, without a doubt, the ecological crop of the future!  
Booklist calls this guide "a godsend for agricultural entrepreneurs and farmers desperate for newer, financially lucrative crops to replace those that have been, or may soon be, compromised by climate change. 
Learn more 
»
»
A Man Apart: Remembering Bill Coperthwaite's Radical Life

A Man Apart is the story—part family memoir and part biography—of Peter Forbes and Helen Whybrow's longtime friendship with Bill Coperthwaite, whose unusual, and even radical, life and fierce ideals helped them examine and understand their own.
Framed by Coperthwaite's sudden death and brought alive through the month-long adventure of building with him what would turn out to be his last yurt, Forbes and Whybrow deftly explore the timeless lessons of Coperthwaite's experiment in intentional living and self-reliance. 
Read it 
»
»
---
Drill, Plug, Wax, Wait: Four Easy Steps to Growing Mushrooms Outdoors

Grow your own mushrooms outdoors with this simple four step tutorial. All you need is a log, some mushroom starter, and a couple basic tools and you are on your way to producing gourmet mushrooms for years to come. 
Make it »»
Kvass: A Nourishing, Fermented Beverage

Looking to add another recipe to your fermenting repertoire? Try your hand at kvass.
This nourishing beverage calls for just a few simple ingredients and only takes a couple of days to ferment. 
Make it »»
---
Get Ready for Maple Sugaring Season

Everything is better with maple syrup. At least that's what you'll hear when you ask Vermonters. So what better way to solidify your love for all things maple than to learn how to make it yourself?
If you only have a couple of trees nearby — say in your backyard — follow some simple advice for you to get started tapping a few trees and collecting the sap by bucket. 
Get Ready »»
---
Roadkill 101: An Insider's Guide to 'Asphalt Hunting'

We've all come across one while driving — a doe, a deer, a female deer — dead on the side of the highway. Admit it, carnivores and omnivores alike, you've often thought to yourself, "I wonder how long it's been there … and … boy, am I hungry!"
After checking the rearview a couple times and being thwarted by oncoming headlights, you probably speed off with the smells of an imaginary venison stew giving your stomach pangs. 
Eat it »»
The Seed Series: 3 Steps to Start Your Plants Off Right

How you handle your seeds and your practices around seeding is your first chance to get your plants off to a good start and help them achieve their full potential.
Follow these three-steps to help your seedlings achieve their full potential! 
Grow it »»
---
The Seed Series: A DIY Seed Bank

A do-it-yourself seed bank is simply your own stash of seeds set aside for long-term storage.
Learn from groundbreaking garden writer, Carol Deppe, on how to start your own seed bank. 
Plant it »»
---
The Seed Series: Choosing the Right Seed Crop

Ever wonder what crops will grow best on your land? Well, learn from award-winning author John Navazio about the right questions to ask.
He guides you through the characteristics of the most cultivated crops so you will get a better feel for which crops are best suited for you, especially when growing them from seed. 
Learn it »»
---
---
Discount codes do not combine with other offers—our books
already on sale for example. Free shipping for orders $100 or
more is applied after the discount is applied. (U.S. Orders Only)