Posted on Tuesday, October 6th, 2009 at 5:22 pm by
dpacheco
GreenPeace is serious about climate change. And they know that one of the best—or maybe easiest—ways to bring attention to a cause is to put naked people on it. Naked people + social cause = media attention. Seriously, would I even be blogging about this if GreenPeace had put out some pastoral pictures of wineries in the south of France with the headline "Save Our Vintners"? (The answer is no.)
From Treehugger:
This past weekend 713 hardy French men and women stripped down to send a message about climate change. They posed nude in French vineyards to warn the world about the impact of global warming on the French wine industry.

In Burgundy, the heart of the French vineyards, on a sunny day ( luckily), Spencer Tunick posed the happy participants in 4 different poses; one with women alone, one with men alone and two more in different vineyards. Organised with Greenpeace, it's all part of the campaign to urge political leaders to take action in the lead up to the U.N.'s Climate Change Conference in Copenhagen in December.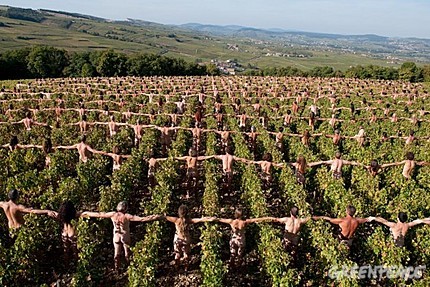 Tunick has been organising these mass nude art pieces for more than 15 years and all over the world. In 2007 he worked with Greenpeace to do one in -10 degree weather, with six hundred dedicated Swiss posing nude on a melting glacier (the Aletsch) in Switzerland. This was done to draw attention to global warming and the shrinking glaciers, which are predicted to disappear by 2080.
Related Articles: