Monday, December 2nd, 2013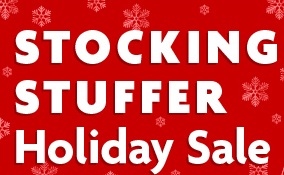 Our stocking stuffer holiday sale continues with 35% off any purchase at our on-line bookstore.
Simply use the code CGS13 at checkout from now until the end of the year. Don't forget there is free shipping on orders over $100.*
Need more? Email us at [email protected] for recommendations.
« New Releases »
| | | | | | | | |
| --- | --- | --- | --- | --- | --- | --- | --- |
| | | | | | | | |
| | | | | | | | |
| --- | --- | --- | --- | --- | --- | --- | --- |
| | | | | | | | |

« Bundles and Sets »
| | | | | | | | |
| --- | --- | --- | --- | --- | --- | --- | --- |
| | | | | | | | |
| | | | | | | | |
| --- | --- | --- | --- | --- | --- | --- | --- |
| | | | | | | | |

« Permaculture »
| | | | | | | | |
| --- | --- | --- | --- | --- | --- | --- | --- |
| | | | | | | | |
| | | | | | | | |
| --- | --- | --- | --- | --- | --- | --- | --- |
| | | | | | | | |

« Sustainable Food »
| | | | | | | | |
| --- | --- | --- | --- | --- | --- | --- | --- |
| | | | | | | | |

« Instructional DVDs »
| | | | | | | | |
| --- | --- | --- | --- | --- | --- | --- | --- |
| | | | | | | | |
| | | | | | | | |
| --- | --- | --- | --- | --- | --- | --- | --- |
| | | | | | | | |

---
* Discount codes do not combine with other offers—our books
already on sale for example. Free shipping for orders $100 or
more is applied after the discount is applied. (U.S. Orders Only)