May 4th, 2015 by admin
May is in full swing and that means it's time to officially celebrate Permaculture Month.
Throughout the next few weeks, we are putting our pioneering permaculture authors at your disposal for a month-long Q&A session. If you are looking to become a better permaculturalist, there's still time to participate! Submit your questions here.
Our first questioner is from New Jersey and he's looking for some advice on how to get started growing pawpaws. In the below response, Steve Gabriel, co-author of Farming the Woods, shares some tips on varieties, number of trees to plant, and where to source good nursery starts.
If you're unfamiliar with pawpaws, here's a little background for you. The fruit of a pawpaw tree is a relative of the custard apple and both looks and tastes very "tropical"—hints of vanilla, mango, banana, and avocado are common descriptors. The virtues of pawpaws are many, from being the largest tree fruit native to the eastern United States to its ease of cultivation and aesthetic form; not to mention, the fruits are extremely nutritious and delicious—high in vitamin C, magnesium, iron, copper, and manganese and a good source of potassium and several essential amino acids. For a complete history of this unique fruit check out Andrew Moore's new book Pawpaw: In Search of America's Forgotten Fruit (August 2015).
Joe from New Jersey writes:
I want to grow a pawpaw tree. What variety should I plant? How many? What size? And, where can I get some nursery starts?
Steve Gabriel: When choosing what variety to plant, consider local adaptability and production as well as any other goals. Peterson Pawpaws have some of the most meticulously developed pawpaw starts. For more information, it's also worth checking out The Pawpaw Regional Variety Trial (a report conducted by Kentucky State in the 1990s) and the university website at www.pawpaw.kysu.edu/.
In terms of number of trees to plant, you will need at least two for cross pollination. Note that if you plant less than 20 – 30 trees you may need to hand pollinate when flowers emerge in May. This is a relatively simple task, outlined in our book. Download chapter 4 from Farming the Woods for more info on pawpaws and step-by-step instructions on how to hand pollinate.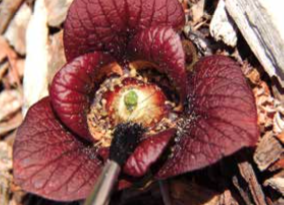 Ideally, you should start planting trees that are 2 – 3 years old. This means you can plant them in sun or partial shade and not have to worry about damage to the bark or roots. Younger trees need to be fully sheltered from sunlight because this species is found naturally in full shade environments, though some sun is good for fruiting and they do well in full sun once they are a bit older. Young trees can be stunted or die if exposed to too much sun.
Prices for nursery starts can range from $5 – $40 per plant! Lower cost plants are seedlings and higher cost are usually cultivars. Often these sell out because there is much more supply for this variety of fruit tree than demand. Here are a few places where you can order plants online:
Oikos Tree Crops
Peterson Paw Paws  (plants available through multiple nurseries across the country)
Stark Brothers