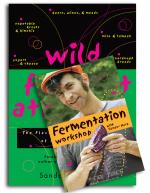 Like this book? Digg it!

Book Data
ISBN: 9781603583015
Year Added to Catalog: 2010
Book Format: Paperback and DVD
Book Art: 25 b&w illustrations, more than 90 recipes/Additional one-on-one interview and two recipes
Dimensions: 7 x 10 / 1 disc
Number of Pages: 208 pages / 110 minutes
Book Publisher: Chelsea Green Publishing
Release Date: September 30, 2010
Web Product ID: 557
Wild Fermentation and Fermentation Workshop with Sandor Ellix Katz: Set
Foreword by Sally Fallon
Upcoming Author Events
NEW YORK, NY

June 4, 2015, 4:00 pmSandor Katz at NYU Fales Library

The Fales Library & Special Collections, 70 Washington Square South, Third Floor, New York NY 10012

On June 4, Sandor Katz will be speaking in a panel at the NYU Fales Library, titled "What Exactly Is Cooking? Almost Everything, When You Think About It." Katz will be one of several people taking part in the panel, which is part of the library's Critical Topics in Food Series. There is a suggested donation of $10. RSVP to [email protected] with the name of event.

SEVEN SPRINGS , PA

RED BOILING SPRINGS, TN

November 7, 2015, 1:00 pmSandor Katz at Long Hungry Creek Farm

2500 Heady Ridge Road, Red Boiling Springs TN 37150

Sandor Katz will lead the Annual Harvest and Kraut-Chi-making Workshop at Long Hungry Creek Farm in Red Boiling Springs, TN, with Jeff Poppen, the legendary "barefoot farmer."Harvesting will take place at 10:00 AM, while the fermentation workshop will begin at 1:00 PM. Bring cutting boards, knives, graters, and jars to fill with veggies.

Online for US Orders Only
International orders can be placed by phone (802-295-6300) or email
Additional Information
Sandor Ellix Katz's Upcoming Events
Sandor Katz at NYU Fales Library


The Fales Library & Special Collections, 70 Washington Square South, Third Floor, New York NY 10012

June 4, 2015, 4:00 pm

Sandor Katz at Pennsylvania Mother Earth News Fair


777 Waterwheel Drive, Seven Springs PA 15622

September 18, 2015, 12:00 pm

Sandor Katz at Long Hungry Creek Farm


2500 Heady Ridge Road, Red Boiling Springs TN 37150

November 7, 2015, 1:00 pm