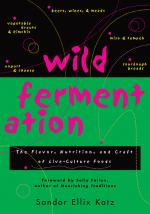 Like this book? Digg it!

Book Data
ISBN: 9781931498234
Year Added to Catalog: 2004
Book Format: Paperback
Book Art: 25 b&w illustrations, more than 90 recipes
Dimensions: 7 x 10
Number of Pages: 208 pages
Book Publisher: Chelsea Green Publishing
Old ISBN: 1931498237
Release Date: July 1, 2003
Web Product ID: 170
Wild Fermentation
The Flavor, Nutrition, and Craft of Live-Culture Foods
Foreword by Sally Fallon
Upcoming Author Events
SAN PEDRO , NL

January 22, 2015, 10:00 amSandor Katz at Foodies México

Calz del Valle 111 PTE, San Pedro NL

Sandor Katz will speak at a fermentation conference and lead a workshop with Foodies México in Monterrey, Mexico on January 22nd. The conference will begin at 10:00 AM and the workshop will start at 4:00 PM.

ENCINITAS, CA

VICTORIA, BC

February 7, 2015, 10:00 amSandor Katz at the Gluten-Free Health and Wellness Conference

720 Douglas Street , Victoria BC V8W 3M7

Sandor Katz will speak at the Gluten-Free Health and Wellness Conference at the Victoria Conference Centre in Vancouver, British Columbia. This event will run from 10:00 AM (PST) to 5:00 PM on February 7th.

VICTORIA , BC

February 8, 2015, 9:00 amSandor Katz at Pacific Rim College

229-560 Johnson Street (Market Square) , Victoria BC V8W 3C6

On February 8th, Sandor Katz will teach an all-day workshop on fermentation at Pacific Rim College in Victoria, BC. Click here for more information on registration for this event: http://www.pacificrimcollege.com/workshops/event/1958/.

LIBERTY , TN

April 15, 2015, 12:00 pmSandor Katz at Fermentation Residency Program

Walnut Ridge , Liberty TN 37095

Sandor Katz will hold a week-long fermentation residency program at Walnut Ridge in Liberty, TN on April 15-22. This program is an opportunity for individuals who already have some fermentation experience to deepen and broaden their fermentation practice and thinking.