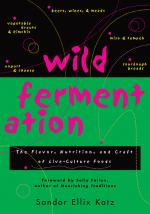 Like this book? Digg it!

Book Data
ISBN: 9781931498234
Year Added to Catalog: 2004
Book Format: Paperback
Book Art: 25 b&w illustrations, more than 90 recipes
Dimensions: 7 x 10
Number of Pages: 208 pages
Book Publisher: Chelsea Green Publishing
Old ISBN: 1931498237
Release Date: July 1, 2003
Web Product ID: 170
Wild Fermentation
The Flavor, Nutrition, and Craft of Live-Culture Foods
Foreword by Sally Fallon
"In our mad rush to adopt newer, more technological food production, we have abandoned the fermenting, healthful wisdom of our forebears. Sandor Katz's book reclaims one of the most important, and ecologically sustainable, processes of preserving and enhancing foods that humankind has discovered. Wild Fermentation is a significant, hands-on, journey through the miracle of fermented foods."

—Stephen Harrod Buhner, Earth Poet and author of Sacred and Herbal Healing Beers: The Secrets of Ancient Fermentation and The Lost Language of Plants
Bread. Cheese. Wine. Beer. Coffee. Chocolate. Most people consume fermented foods and drinks every day. For thousands of years, humans have enjoyed the distinctive flavors and nutrition resulting from the transformative power of microscopic bacteria and fungi. Wild Fermentation: The Flavor, Nutrition, and Craft of Live-Culture Foods is the first cookbook to widely explore the culinary magic of fermentation.
"Fermentation has been an important journey of discovery for me," writes author Sandor Ellix Katz. "I invite you to join me along this effervescent path, well trodden for thousands of years yet largely forgotten in our time and place, bypassed by the superhighway of industrial food production."
The flavors of fermentation are compelling and complex, quite literally alive. This book takes readers on a whirlwind trip through the wide world of fermentation, providing readers with basic and delicious recipes-some familiar, others exotic-that are easy to make at home.
The book covers vegetable ferments such as sauerkraut, kimchi, and sour pickles; bean ferments including miso, tempeh, dosas, and idli; dairy ferments including yogurt, kefir, and basic cheesemaking (as well as vegan alternatives); sourdough bread-making; other grain fermentations from Cherokee, African, Japanese, and Russian traditions; extremely simple wine- and beer-making (as well as cider-, mead-, and champagne-making) techniques; and vinegar-making. With nearly 100 recipes, this is the most comprehensive and wide-ranging fermentation cookbook ever published.
"I have been fermenting foods and drinks for a decade. It started with sauerkraut. I found an old crock buried in our barn, harvested cabbage from our garden, chopped it up, salted it, and waited. That first kraut tasted so alive and powerfully nutritious! Its sharp flavor sent my salivary glands into a frenzy and got me hooked on fermentation. I have made sauerkraut ever since, earning the nickname Sandorkraut, even as my repertoire has expanded. I have explored and experimented widely in the realm of fermentation, and I want to share what I have learned."
—Sandor Ellix Katz


Online for US Orders Only
International orders can be placed by phone (802-295-6300) or email
Additional Information
Sandor Ellix Katz's Upcoming Events
Sandor Katz at NYU Fales Library


The Fales Library & Special Collections, 70 Washington Square South, Third Floor, New York NY 10012

June 4, 2015, 4:00 pm

Sandor Katz at Pennsylvania Mother Earth News Fair


777 Waterwheel Drive, Seven Springs PA 15622

September 18, 2015, 12:00 pm

Sandor Katz at Long Hungry Creek Farm


2500 Heady Ridge Road, Red Boiling Springs TN 37150

November 7, 2015, 1:00 pm