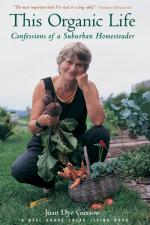 Like this book? Digg it!

Book Data
ISBN: 9781931498241
Year Added to Catalog: 2001
Book Format: Paperback
Book Art: recipes, bibliography, index
Dimensions: 6 x9
Number of Pages: 288
Book Publisher: Chelsea Green Publishing
Old ISBN: 1931498245
Release Date: September 1, 2002
Web Product ID: 272
This Organic Life
Confessions of a Suburban Homesteader
Praise
Joan Gussow provides us with delicious inspiration by picking from her garden and cooking seasonally. She is an enlightened nutritionist who understands that our health and the health of the planet begins with stewardship of the earth.

—Alice Waters
Joan Gussow is one of those rare authorities for whom the personal and political are always one and the same. Eloquent, funny, wise, she is one of our most important voices in the ever growing Real Food Movement.

—Barbara Damrosch, author of The Garden Primer
This is the most important book I've read in a long while. Full of hope, kindness, and arresting wisdom, it will serve as a valuable guide to anyone who wants to live more thoughtfully on the only planet that feeds us. For many years, as I've worked hard to raise some of my family's food and attend closely to the sources of the rest of it, doubtful observers have asked me why I bother, when stores nearby sell anything in any season, cheaply. I've struggled to explain that this effort is for me a matter of moral responsibility. From now on I'll simply hand them a copy of This Organic Life.

—Barbara Kingsolver
Based on a delicious literary recipeone part memoir, one part manual, one part manifestoThis Organic Life gives flesh to ideas about reforming our food supply that deserve not only to be heard, but tried out in the backyard. Yet this book is not only nutritious: Joan Gussow is the best of company on the page, by turns funny, poignant, and wise.

—Michael Pollan
This Organic Life is a passionate statement from a woman who cares deeply about the environment, the planet and the way we live. The fact that many of us cannot till our own gardens does not mean that Joan Gussow's message is not directed to us. As individuals, as parents and grandparents, and as citizens, hers is a call to arms, both in our self-interest and in the interest of future generations.

—Stephen Viederman , The Needmor Fund
Will give heart and nourishment to anyone with a garden that seems beyond help.

—The Chicago Tribune
"[Gussow's] message could be strident but instead is compelling and informative, partly because she maintains a good sense of humor and partly because she walks her talk.

—Natural Health
One of the unsung heroes of the environmental movement.

—New Age
[Gussow] makes a compelling argument -- both ecological and moral -- for growing our own food.

—Utne Reader
Gussow is a reminder of how important passionate people are to all of us, because they share their contagious excitement with the timid. . . . Most of us want to be part of something of larger significance. Gussow's book will light one possible path for many readers to come.

—Natural Home Magazine
Gussow shares stories from her life with (and eventually without) her husband in a warm, expansive style that should allow all readers to enjoy the book, gardeners and non-gardeners alike.

—New Age Retailer
Almost any conference having to do with our food systems -- processing, organics, security -- will likely include Joan Dye Gussow. She comes to food with a global perspective, concerned that our agricultural 'progress' -- genetically engineered food, synthetic additives, industrialized production, and artificial price supports -- is destroying environments as well as economies around the world.

—The Valley Table
Reading This Organic Life could be dangerous. It might make us question the tradeoffs that many of us take for granted -- how we spend our time, our money, where we buy our food and what that implies about our individual and collective futures. It might make us excited about doing things differently, even make us want to try it.

—The Times Argus
I doubt whether there is an activity more radical in its social and cultural consequences than growing nearly all your own food year round. And there could hardly be a healthier counterpoint to the increasing physical and mental immobilization of our society in front of the alternately intimidating and hypnotic glare of illuminated screens.

—Stephen L. Talbott, NetFuture
You will forget that education is the purpose of this book, because it moves so much like a novel. However, you will find yourself stopping and jotting down little bits of information and recipes along the way. Well written, poignant and packed with facts.

—The Washington Post
This is the perfect book for the vegetable gardener who wants to know more about how to grow organic but is bored by how-to books. Gussow is like a friend whose company you enjoy. Only later do you realize how much you've learned from her.

—The Boston Globe
It's very rare to be moved by a gardening book, but This Organic Life has an uncommon depth of feeling, not in the prose, which is plain-speaking, and not in its philosophical aspirations, which are more economic than spiritual. There is something happily, almost chaotically jumbled -- and thus lifelike -- about the way this book proceeds.

—The New York Times
Joan Dye Gussow's account of her pursuit of the good life in genuine practical harmony with nature is a delight. It's rare to encounter a book that is at once a serious contribution to its field and a fine lively entertainment. An engaging personal story, stray thoughts on history, a little science, a few gardening instructions, a handful of low-key recipes and some slyly inserted politics--what a good, healthy, enjoyable salad this is!

—Nach Waxman, Owner, Kitchen Arts & Letters, NYC
Joan Dye Gussow's This Organic Life is a rollicking good read from start to finish. It is like a long talk with an old friend, filled with candor and immediacy. The author is telling the story of her shared quest with her husband, the late artist Alan Gussow, to learn how to live well but mindfully. Their focus in attempting to do so is to grow their own food. The result is a love story that extends to home and community. It is a domestic adventure story with all the mishaps and triumphs every householder and gardener comes to know. As a scientist and journalist, Dr Gussow has a knack for cutting to the core of complex issues. She regales the reader with wisdom, knowledge, and passion about why we need to care about what -- and how -- we eat. Through her we come to see gardening as connection, as metaphor and as practice of ongoing continuity, of the human family at home in the living world. As she herself concludes, 'It is my meditation, my learning my caring for each thing the Earth has produced as if my life depended on it, because of course, in a larger sense, it does.'

—Nancy Jack Todd
I love the "sustainable hedonism" term that has been applied to Joan. Her homespun storytelling serves as an inspiration to all of us that we can be good stewards of ourselves and the earth, all while having a splendid time!

—Janet Luhrs, author of The Simple Living Guide, and Simple Loving and editor and publisher of "Simple Living: the journal of simplicity"
This book is a great inspiration for readers to garden, cook, and truly live in the moment! Joan brings decades of experience in the organic movement to life with this wondrous collection of stories. When you add to the mix a great recipe for Chili Rellenos, This Organic Life becomes a must read!

—Jim Slama, publisher of Conscious Choice: The Journal of Ecology and Natural Living