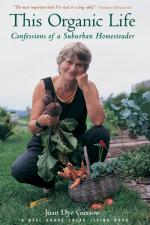 Like this book? Digg it!

Book Data
ISBN: 9781931498241
Year Added to Catalog: 2001
Book Format: Paperback
Book Art: recipes, bibliography, index
Dimensions: 6 x9
Number of Pages: 288
Book Publisher: Chelsea Green Publishing
Old ISBN: 1931498245
Release Date: September 1, 2002
Web Product ID: 272
This Organic Life
Confessions of a Suburban Homesteader
Excerpt
excerpt from "How It All Began"

I made a card for each vegetable we grew, with the months listed across the top and the years listed down the left side. Then I recorded when we sowed, when we planted out, when we began to harvest, how long the harvest continued, and how long we had crops stored in the cold cellar and the freezer. And gradually we extended our harvest season. We learned to sow early spinach under a floating row cover that kept out leaf miners. When the spinach went to seed in the summer heat, we pulled it out and planted parsnips in the same bed, as a winter crop. When we harvested broccoli heads, we learned to cut the stem very close to its root, just above the first two leaves, so that the sturdy stalk wouldn't send up tiny new shoots from each of fifteen leaf nodes, but just two vigorous new shoots to produce a second crop of broccoli heads late into the fall. We learned to grow enough storage onions from seed to meet our needs all year; and we learned that potatoes can be long keepers as well as short keepers, that they come in early, middle, and late varieties, and that you can readily grow at home not only white, but yellow, red, and blue potatoes that sell for gourmet prices in the stores. Potatoes became a mainstay of our cold-season diet.

Another winter mainstay was kale, a green that can sometimes hold out till spring and can -- if forcibly discouraged from expressing its sexuality by alert removal of flowering stalks -- produce for a second season. My romance with kale might never have occurred had Alan not been artist-in-residence at the Cape Cod National Seashore one fall. He was given kale -- the only thing left in their gardens in October -- by his Portuguese neighbors who appreciated his efforts to cook for himself They taught him to steam kale with the Portuguese sausage linguisa. The next year, when we were still in the small shaded north garden at Congers, Alan insisted that we plant kale.

My relationship with kale was decidedly unfriendly at the time, as is reflected in some remarks about a garden I once tried in Maine, which I came across when writing this chapter. To my surprise, that garden contained kale, a memory I had totally suppressed. I wrote "N.G. bitter, blue gray, wasted." That about says it.

But while I didn't like kale, I went along with Alan's request that we plant it because I judged it morally essential to learn to like this incredibly nutritious vegetable. We planted the seeds in spring, and it did well. But each time that summer, when Alan would suggest we cook some, I would protest, "Oh, it's hardy, and other things will freeze. Let's wait till fall." I really dreaded having to eat it. In September, I gave in; Alan cooked some up in a heavy frying pan with a little linguisa -- and I loved it.

Later I learned to make wonderful Kale and Potato Soup. This recipe has been sufficiently modified from its original sources that I feel comfortable claiming it.

JOAN's KALE AND POTATO SOUP

If you are not using canned beans, cook 1 cup kidney, pinto, or brown beans before beginning soup, and if you're not a vegetarian, boil half a chorizo or kielbasa with beans for 15 minutes during the cooking.

Steam in a large kettle until wilted and bright green:
4 cups finely cut kale leaves
Cool and hold.

Heat in a soup pot:
3 tablespoons olive oil

Add:
1 medium yellow or red onion, diced
3 to 6 cloves garlic, minced
1/2 teaspoon chili flakes
1 to 2 bay leaves
Sauté over low heat until onion is soft but not brown.

Add:
1 pound red or yellow potatoes, cut into 1/2-inch cubes
2 teaspoons nutritional yeast (optional)
6 cups water or stock (bean or bean/chorizo water
may be used)
Bring to a boil, and simmer about 15 minutes or until potatoes are tender.

Roughly crush potatoes against side of pot so most are sort of mashed.

Add:
2 cups cooked beans
shredded kale, which has been re-chopped finely
after steaming
sliced parboiled chorizo

Boil 6 to 8 minutes. Serve.

Tender kale, shredded raw, can also substitute for lettuce on Mexican tostadas, or be stuffed into soft tacos with mashed beans and cheese. Kale is much sweeter after the first frost.

And so, in time, we learned how to produce enough vegetables to last us -- with the help of the freezer -- through the year. And just about the time we had improved our garden soil enough to feed ourselves from it, we decided it was time to move.