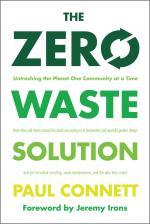 Like this book? Digg it!

Book Data
ISBN: 9781603584890
Year Added to Catalog: 2013
Book Format: Paperback
Book Art: B&W Images
Dimensions: 6 x 9
Number of Pages: 400
Book Publisher: Chelsea Green
Release Date: October 11, 2013
Web Product ID: 756
The Zero Waste Solution
Untrashing the Planet One Community at a Time
Foreword by Jeremy Irons
Reviews, Interviews, & Articles
"This is both a handbook for and history of the zero waste movement worldwide. Connett became involved in the movement in 1985 when an incinerator—and its poisonous dioxin emissions—was slated for construction near his community. He has been a major player ever since. This text has three parts: an overview of zero waste's history, philosophy, and practical steps; examples of initiatives worldwide; and essays by prominent activists. Connett castigates burn-and-bury (i.e., incinerators and landfills) as wasteful, expensive, and deleterious to health and presents factual backup. To "reduce, reuse, recycle" he adds "redesign" to limit the flood of disposable goods. Connett advocates that businesses take responsibility for disposal of goods not easily recycled. San Francisco's zero waste prominence is no surprise, but Italy's is eye-opening. The author offers plenty of paths to zero waste, from donkeys providing recycling transport in Italian hill towns to econometric analysis in Seattle. VERDICT Community organizers, environmentalists, and environmental studies students will all benefit from this work … . The book also includes a rich list of resources for further study."—Library Journal
Reviews for The Case Against Fluoride
Interviews & Articles

US Orders Only.
International Orders: Click here.
Additional Information
Paul Connett's Upcoming Events
Paul Connett at the Massachusetts Sustainable Campuses & Communities Conference


UMass Lowell Conference Center, Lowell MA

April 17, 2014, 12:00 pm

Paul Connett at Maine Resource Recovery Association


Samoset Resort, Rockport ME

April 28, 2014, 12:00 pm

(tentative) Paul Connett at Ontario's 1st Zero Waste Conference


, Orillia Ontario, Canada

August 22, 2014, 12:00 pm