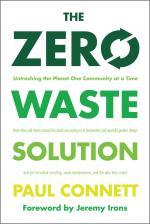 Like this book? Digg it!

Book Data
ISBN: 9781603584890
Year Added to Catalog: 2013
Book Format: Paperback
Book Art: B&W Images
Dimensions: 6 x 9
Number of Pages: 400
Book Publisher: Chelsea Green
Release Date: October 11, 2013
Web Product ID: 756
The Zero Waste Solution
Untrashing the Planet One Community at a Time
Foreword by Jeremy Irons
"Connett's book correctly illuminates the essential nature of citizen-led movements for true zero-waste solutions to transform society. Using Connett's methods, The It's Not Garbage Coalition in Nova Scotia stopped a string of imported garbage incinerators, a PCB incinerator, a medical waste incinerator, a massive MSW incinerator, and a sewage sludge incinerator. By 1994 we had a province-wide ban on incineration and a citizen-designed, world-leading system aimed toward zero waste. With the wisdom in this book, you can achieve results like this too!"

—David Wimberly, co-chair, The It's Not Garbage Coalition
Waste is something we make every day, but we rarely give it much thought. That is changing, though, as emerging programs around the globe show many ways in which a community can achieve zero-waste status.
In The Zero Waste Solution, author and scientist-turned-activist Paul Connett profiles the most successful zero-waste initiatives around the world, showing activists, planners, and entrepreneurs how to re-envision their community's waste-handling process by doing the following:
Consuming less;
Turning organic waste into compost;
Recycling and reusing other waste;
Demanding nonwasteful product design; and,
Creating jobs and bringing community members together in the process.
Connett is a leading international figure in the decades-long battles to fight pollution and has championed efforts to curtail overconsumption and keep industrial toxins out of our air, drinking water, and bodies. He's best known around the world for leading efforts to help communities sustainably eliminate and reuse waste rather than burn it or stow it away in landfills.
In addition to showing how zero-waste status can be achieved, Connett exposes the greenwashing behind renewed efforts to promote waste incinerators as safe, nontoxic energy suppliers. The book offers detailed information on how communities can battle incinerators that emit dangerous particles into the atmosphere.
The Zero Waste Solution is an important toolkit for anyone interested in creating sustainable communities, generating secure local jobs, and keeping toxic alternatives at bay.

US Orders Only.
International Orders: Click here.
Additional Information
Paul Connett's Upcoming Events
Paul Connett at the Massachusetts Sustainable Campuses & Communities Conference


UMass Lowell Conference Center, Lowell MA

April 17, 2014, 12:00 pm

Paul Connett at Maine Resource Recovery Association


Samoset Resort, Rockport ME

April 28, 2014, 12:00 pm

Paul Connett at Ontario's 1st Zero Waste Conference


500 University Ave., Orillia Ontario, Canada

August 10, 2014, 12:00 pm