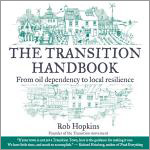 Like this book? Digg it!

Book Data
ISBN: 9781900322188
Year Added to Catalog: 2008
Book Format: Paperback
Book Art: Two-color
Dimensions: 9 x 9
Number of Pages: 240
Book Publisher: Green Books
Release Date: September 3, 2008
Web Product ID: 423
The Transition Handbook
From oil dependency to local resilience
Foreword by Richard Heinberg
Praise
"If Hopkins is right about the viral spread of the Transition Town concept then he has to be a runaway contender for a Nobel prize."

—Friends of the Earth's Earthmatters magazine
"This is much more than just a book. It is a manual for a movement. And not just any movement, but one which--in avoiding the civilisational collapse threatened by the twin crises of peak oil and climate change--could prove to be the most important social force humanity has ever seen."

—Mark Lynas, author of Six Degrees
"The book is a great guide for how we must live in a future world where the limits of nature are honoured, but so are the basic comforts and joys of communities coming together in a great common cause. There is no more important book than this one for any community seeking change toward ecological sustainability."

—Jerry Mander, founder/director of the International Forum on Globalization and author of In the Absence of the Sacred
"This book by the visionary architect of the Transition movement is a must-read, labeled 'immediate.' Growing numbers with their microscopes trained on peak oil are convinced that we have very little time to engineer resilience into our communities before the last energy crisis descends. This issue should be of urgent concern to every person who cares about their children, and all who hope there is a viable future for human civilization post-petroleum."

—Jeremy Leggett, founder of Solarcentury and SolarAid, and author of The Carbon War and Half Gone
"This book happily describes the British grassroots 'Transition Towns' movement, the group Robin Mills (see below) called 'mistaken, appalling and dangerous.' Meant to be a guide and motivator, the handbook discusses how several U.K. towns are preparing for the twin threats of climate change and peak oil. Hopkins, a teacher of permaculture and natural building and a cofounder of the Transition Network, urges a community response—local sustainability made fun—in which groups grapple with issues like food, transportation, energy, building materials, and waste and even develop their own local currency. Hopkins takes our 'addiction' to oil literally, and so we will read of 'post-petroleum stress disorder,' and see applied addictions psychology helping to ease the townies' withdrawal symptoms. It's a handsome book, thoughtfully designed, which may make its message a little more palatable to oil addicts on this side of the Atlantic."

—Robert Eagan, Library Journal
"This DIY manual for change is an intelligent and practical attempt to encourage people to think globally while acting locally."

—P. D. Smith, The Guardian
"The Transition movement is the best news there's been for a long time, and this manual is a goldmine of inspiration to get you started."

—Phil England, New Internationalist
"The newly published Transition Handbook is so important that I am tempted just to confine this review to five simple words: 'You must read this book!'"

—Richard Barnett, Ethical Pulse
"Rob Hopkins is the Gentle Giant of the green movement, and his timely and hugely important book reveals a fresh and empowering approach that will help us transition into a materially leaner but inwardly richer human experience. Full of reliable, readable, far-reaching scholarship, and warmhearted practical advice on how to instigate transition culture wherever you are, this book will energize and regenerate your commitment to place, community and simple living. There is no better call to action than this book, and no better guide to the hands-on creation of a livable future."

—Dr. Stephan Harding, coordinator of the MSc in Holistic Science at Schumacher College and author of Animate Earth: Science, Intuition and Gaia
"The Transition concept is one of the big ideas of our time. Peak oil and climate change can so often leave one feeling depressed and disempowered. What I love about the Transition approach is that it is inspirational, harnessing hope instead of guilt, and optimism instead of fear. The Transition Handbook will come to be seen as one of the seminal books which emerged at the end of the Oil Age and which offered a gentle helping hand in the transition to a more local, more human and ultimately more nourishing future."

—Patrick Holden, director of the Soil Association
"If ever there was a book that empowered the reader, this is it. I'm struggling here to escape metaphors about having a thankful of petrol I my belly, that that's just what it feels like. Rob tells us that fossil fuels multiply the physical force of each human being by 70 times. Well, this book can do the same, but in a social way rather than a brute mechanical way, and to a positive end rather than a destructive one. It's not only a powerful read, but an easy one too. It flows along like a well-written novel, full of illustrations, well designed and produced. Anyone who has met Rob or heard him speak in public will recognize it its words the humor, power and humility of this remarkable person. The book is of course a product of the cheap oil era. But if we can create things of this quality, when the post-peak times come we have little to fear."

—Patrick Whitefield, Permaculture magazine
"If your town is not yet a Transition Town, here is guidance for making it one. We have little time, and much to accomplish."

—Richard Heinberg, from the Foreword

US Orders Only.
International Orders: Click here.
Additional Information
Rob Hopkins's Upcoming Events
Rob Hopkins at Hay Literary Festival


,

May 23, 2013, 5:30 pm

Rob Hopkins at Hawthornden Lecture Theater


, Edinburgh Scotland

June 20, 2013, 12:00 am