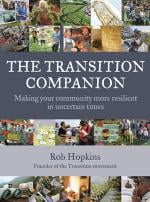 Like this book? Digg it!

Book Data
ISBN: 9781603583923
Year Added to Catalog: 2011
Book Format: Paperback
Book Art: 4-color
Dimensions: 7 3/4 X 10 3/8
Number of Pages: 320
Book Publisher: Chelsea Green Publishing
Release Date: October 26, 2011
Web Product ID: 645
The Transition Companion
Making Your Community More Resilient in Uncertain Times
Praise
There is no more important journey we can undertake than the transition from our current fossil-fuel dependency to locally based economic resiliency. This book is the ideal companion for that journey—optimistic yet clear-headed; informed by experience yet playful and encouraging. Hopkins's wisdom, creativity, and gentle humor pervade each captivating page.

—Richard Heinberg, Senior Fellow, Post Carbon Institute, and author of The End of Growth
What Rob Hopkins has done—in this book, and with the Transition movement—simply couldn't be more important. We're coming to a powerful crunch time for our civilization, and if you read this you'll be well ahead of the curve in understanding how to prepare your community. There's much beauty here, and hope.

—Bill McKibben, author of Eaarth
This is the biggest urban brainwave of the century. A visionary, practical blueprint that took root in a town and is circling the globe. This is a book that can change your life—our lives.

—Nicholas Crane, broadcaster and author of Clear Waters Rising
Here, Rob sets out an exciting, much-expanded idea of what Transition is and could become; one that is rich with hard-won insights and practical advice. It's a work full of bold answers, inspirational ideas and daring solutions. Although profoundly serious at heart, it's never somber. In fact, it's a great deal of fun, frequently demonstrating how Transition is a highly creative, stimulating, and even playful process. … The Transition Companion offers an extraordinarily rich yet highly accessible model for drawing together the people around you, and describes the tools needed to start an economic and social renaissance in the place you live. It's a book that is unashamedly ambitious and far-reaching in its scope and vision. But, if we are to successfully navigate what's coming toward us, and hold on to our identity, our community, and our shared optimism for the future, that is exactly what we need.

—Hugh Fearnley-Whittingstall, from the foreword
Transition is the most vital social experiment of our times. The Transition movement has already motivated thousands to begin to adapt their lives to the twin challenge of peak oil and climate change. Drawing on this collective experience, The Transition Companion offers communities a combination of practical guidance and real vision for the future.

—Tim Jackson, author of Prosperity without Growth

US Orders Only.
International Orders: Click here.
Rob Hopkins's Upcoming Events
Rob Hopkins at Hay Literary Festival


,

May 23, 2013, 5:30 pm

Rob Hopkins at Hawthornden Lecture Theater


, Edinburgh Scotland

June 20, 2013, 12:00 am