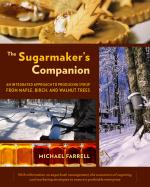 Like this book? Digg it!

Book Data
ISBN: 9781603583978
Year Added to Catalog: 2013
Book Format: Paperback
Book Art: Full-Color Throughout
Dimensions: 8 x 10
Number of Pages: 344
Book Publisher: Chelsea Green
Release Date: October 4, 2013
Web Product ID: 759
Also in Gardening & Agriculture
The Sugarmaker's Companion
An Integrated Approach to Producing Syrup from Maple, Birch, and Walnut Trees
Reviews, Interviews, & Articles
"The art of sugaring (tapping trees to make syrup) is enjoyed by home hobbyists and commercial farmers alike. Here, Farrell uses his experience as director of Cornell University's Uihlein Forest, a maple syrup research station, to create a comprehensive volume on the subject. Traditional and modern techniques are combined with a multitude of how-to's on topics that include finding trees, collecting sap, processing, and marketing. Farrell also covers niche markets, such as tapping birch and walnut trees for sap and syrup, and outlines how to create a viable and profitable sugar-making business. Full-color images, along with charts and highlighted topics, make this book accessible to both the beginner and the ¬experienced sugar maker. VERDICT While the wealth of information may seem daunting to novices, this work is a required reference for those who are seriously exploring sugar making as a small- or large-scale business. Hobbyists will find innovative techniques and ideas to broaden their scope of knowledge."—Library Journal
"Anyone who enjoys a good pancake breakfast now and then knows the difference between artificial, fructose-laced concoctions and authentic maple syrup harvested directly from trees. The natural version of this elixir also trumps the competition by containing abundant beneficial nutrients, an interesting detail that is just one among thousands readers will discover in this comprehensive guide to 'sugarmaking,' the common term for turning sap into syrup, by Cornell University researcher Farrell. The author, who taps some 5,000 maples every year at a scientific field station in Lake Placid, New York, offers a wealth of expertise to entrepreneurs hoping to turn a profit in the popular, still-growing maple syrup business. In more than 350 well-illustrated pages, Farrell covers everything from locating prime tapping trees and the basics of syrup collection to syrup grading systems and marketing strategies. While the manual is directed mostly at landowners with enough trees for a high production operation, novices interested in tapping a few backyard maples for a flavorful treat will also benefit from Farrell's seasoned advice."—Booklist

US Orders Only.
International Orders: Click here.
Michael Farrell's Upcoming Events
Michael Farrell at the 2014 Weston Price Conference


Weston Price Wise Traditions Conference, Indianapolis IN

November 7, 2014, 12:00 pm