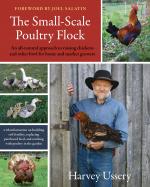 Like this book? Digg it!

Book Data
ISBN: 9781603582902
Year Added to Catalog: 2011
Book Format: Paperback
Book Art: 4-color throughout (including photos, tables and several line drawings)
Dimensions: 8 x 10
Number of Pages: 416
Book Publisher: Chelsea Green Publishing
Release Date: September 21, 2011
Web Product ID: 637
Also in Gardening & Agriculture
The Small-Scale Poultry Flock
An All-Natural Approach to Raising Chickens and Other Fowl for Home and Market Growers
Foreword by Joel Salatin
Praise
"Anyone interested in practical, experienced, insightful information about how to select, breed, care for, manage, feed, protect, process, eat, and/or market small-scale or personal poultry flocks for their own eating pleasure or selling to others—and have FUN—should read this book."

—Frederick Kirschenmann, author of Cultivating an Ecological Conscience: Essays From a Farmer-Philosopher
"The Small-Scale Poultry Flock is about establishing a free-range poultry flock fully integrated into a healthy homestead ecosystem. Based upon the author's decades of hands-on experience with many breeds and species, it covers all the basics about raising poultry, and fills some important gaps not usually covered well enough elsewhere, including chicken behavior, poultry breeding, raising chicks with broody hens, managing free-ranging, dealing with predators, using electric net fencing, feeding poultry with home-grown feeds, and integrating the poultry with soil mineral balance, gardens, lawns and pastures, orchards, worm bins, and soldier fly (larvae) production. If you want to raise chickens and can afford just one book, I recommend this one."

—Carol Deppe, author of The Resilient Gardener
"No other book on small-scale poultry provides so integrated an approach to issues of soil health, home economy, resource conservation, food quality, and animal welfare. Harvey Ussery's tireless passion for experimentation and empirical observation offers a wealth of information based on decades of first-hand experience. This is the big picture of poultry; no homesteader or backyard chicken enthusiast should be without a copy."

—Kate Hunter, of livingthefrugallife.blogspot.com
"Ussery's outstanding book is certain to withstand the test of time both for its encyclopedic and practical information, and for its acknowledgment that the future of our culture and our food security is in the hands of the small farmer and backyard producer. If you are starting out with your first flock, this is your book. And when you've been keeping poultry for 30+ years, this will still be your best book."

—Shannon Hayes, author of Radical Homemakers
"This book is packed with practical advice on raising poultry by someone who has not only done it all, but has learned from his broad experience and knows how to communicate that wisdom clearly and in a lively, readable style. Harvey Ussery has written one of the most comprehensive guides out there, but what places it above the rest of the crowd is that he shows you how to work with nature rather than against it in ways that will minimize work while ensuring the health and happiness of the flock. Whether you're a beginner or an old-time poultry farmer, you shouldn't go any further without this excellent manual."

—Toby Hemenway, author of Gaia's Garden: A Guide to Home-Scale Permaculture
"There is a revolution going on, and it is the popular return of keeping poultry to provide food for our home tables. Ussery's The Small-Scale Poultry Flock helps lead the way by integrating the small flock with its natural environment, the homestead, or small farm. Nowhere else will you find such valuable information on putting poultry to work in the garden, producing much of their feed, and producing healthful food for ourselves."

—Don Schrider, author of the American Livestock Breeds Conservancy's Chicken Assessment for Improving Productivity and Storey's Guide to Raising Turkeys (2nd Ed.)
"The Small-Scale Poultry Flock is the only complete guide available to using your poultry as an integrated part of a self-reliant farmstead—a topic not addressed at this depth and breadth in any other poultry book. Author Harvey Ussery combines his clear, down-to-earth writing style with creative strategies throughout. He comprehensively explores a wide range of topics including chicken behavior, anatomy, holistic health care, making your own poultry feeds and finding alternative home feeds, breeding your own poultry stock, butchering poultry, and much more. This book covers it all."

—Elaine Belanger, Editor, Backyard Poultry magazine
Harvey Ussery has spent a lifetime developing and showcasing a truly viable poultry model that is ultimately carbon-sequestering, hygienic, neighbor-friendly, and food-secure…this book is about a call to heritage, to the wisest of wise traditions in food security and relationships. Harvey brings the latest tools and practices within the grasp of any aspiring flockster. It is this functional spirit that will make this book a classic in the small-scale poultry rearing genre.

—Joel Salatin, Polyface, Inc.
"Here's the ultimate book for those who want to know everything there is to know about raising poultry. And every detail is backed up by the author's own (and often entertaining) experiences. I could not find—in this encyclopedic array of chicken knowhow—one detail that I would quibble with."

—Gene Logsdon, author of Holy Shit and The Contrary Farmer
"Harvey Ussery delivers all the practical information you need to grow your own eggs and meat birds, in a style and format that will keep you interested and amused. Plus, he raises the larger question: what kind of world do we want to live in? One that treats animals as units of production, or one that honors all life, especially that farmstead marvel, the domesticated chicken?"

—Sally Fallon Morell, President, The Weston A. Price Foundation