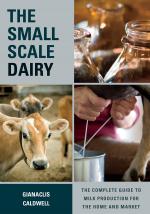 Like this book? Digg it!

Book Data
ISBN: 9781603585002
Year Added to Catalog: 2014
Book Format: Paperback
Book Art: Full Color - 50-70 Pictures
Dimensions: 7x10
Number of Pages: 232
Book Publisher: Chelsea Green
Release Date: March 14, 2014
Web Product ID: 794
The Small-Scale Dairy
The Complete Guide to Milk Production for the Home and Market
Reviews, Interviews, & Articles
Interviews and Articles
"Whether you're considering opening a small commercial dairy, daydreaming about adding a couple of miniature milking goats to your urban homestead, or just curious about the hoopla over raw milk, Caldwell (Mastering Artisan Cheesemaking) has the lowdown. She can't repress her own lifelong passion for dairy animals and milk—she was raised from birth on raw milk from a neighbor's cow and kept her own 4H cow before her current ownership of a goat's milk dairy farm—but her hardheaded, gritty descriptions of the realities of keeping dairy livestock will filter out all aspirants but those most suited to what Caldwell calls a ''lifestyle business' rather than a growth or investment business.' She offers comprehensive advice about business plans and licensing; choosing and caring for animals; building and managing a dairy; and maintaining impeccable dairy hygiene. She also profiles a variety of appealing small dairies; but perhaps most fascinating to prospective milkmaids, artisanal cheese eaters, and quotidian milk-drinkers are her chronicles of the checkered history of small dairies and extensive coverage of the biology and chemistry of that precious, astoundingly complex white liquid called milk." — Publishers Weekly
Del Norte Triplicate (of Crescent City, CA) – Rogue River Dairy Finds Niche for Nigerian Dwarf Goat Cheese

US Orders Only.
International Orders: Click here.
Additional Information
Gianaclis Caldwell's Upcoming Events
Gianaclis Caldwell at the 8th Annual California Artisan Cheese Festival


Sheraton Sonoma County, Petaluma CA

March 22, 2014, 12:00 pm

Gianaclis Caldwell at Mother Earth News Fair in Asheville


Mother Earth News Fair, Asheville NC

April 12, 2014, 12:00 pm

Gianaclis Caldwell at Mother Earth News Fair in Puyallup, WA


Mother Earth News Fair, Puyallup WA

May 31, 2014, 12:00 pm

Gianaclis Caldwell at American Cheese Society Conference


American Cheese Society , Sacramento CA

July 29, 2014, 12:00 pm