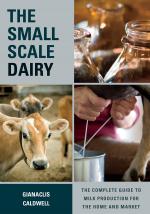 Like this book? Digg it!

Book Data
ISBN: 9781603585002
Year Added to Catalog: 2014
Book Format: Paperback
Book Art: Full Color - 50-70 Pictures
Dimensions: 7x10
Number of Pages: 232
Book Publisher: Chelsea Green
Release Date: March 14, 2014
Web Product ID: 794
The Small-Scale Dairy
The Complete Guide to Milk Production for the Home and Market
Upcoming Author Events
April 5, 2015, 9:00 amGianaclis Caldwell at the Maine Cheese Guild

, ME

Gianaclis Caldwell will teach a two day-long workshop on small-scale cheese business through the Maine Cheese Guild in the Augusta area on April 5-6th. Registration costs $100 for Guild members and $300 for non-members.

SACRAMENTO, CA

April 17, 2015, 10:00 amGianaclis Caldwell at California Artisan Cheese Guild

3216 Martin Luther King Jr. Blvd , Sacramento CA 95817

Gianaclis will teach an advanced class on cheesemaking from April 17th-April 18th at Brew Ferment Distill (BFD) in Sacramento. Cost to attend is $165 for one day and $300 for both days for members; $175 for one day and $325 for both days for non-members.

MALONE, WI

April 28, 2015, 10:00 amGianaclis Caldwell at Wisconsin Cheese Guild

W2994 County Road HH, Malone WI 53049

Gianaclis Caldwell will teach a workshop on Controlling Acid Production in cheesemaking at LaClare Farms on April 28th. This workshop, sponsored by the Wisconsin Cheese Guild, will run from 10-5:00 PM and cost $85, including lunch.