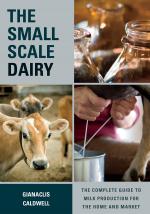 Like this book? Digg it!

Book Data
ISBN: 9781603585002
Year Added to Catalog: 2014
Book Format: Paperback
Book Art: Full Color - 50-70 Pictures
Dimensions: 7x10
Number of Pages: 232
Book Publisher: Chelsea Green
Release Date: March 14, 2014
Web Product ID: 794
The Small-Scale Dairy
The Complete Guide to Milk Production for the Home and Market
Upcoming Author Events
ROCKPORT, ME

October 25, 2014, 9:00 amGianaclis Caldwell at the Main Cheese Guild

461 Commercial St, Rockport ME 04856

Gianaclis Caldwell will lead two workshops for the Main Cheese Guild on October 25th-26th. Saturday's event will be a Pasta Filata Workshop, while Sunday's will be an Affinage Workshop. Both workshops will take place at the State of Main Cheese Co. in Rockport, ME.

COLUMBUS, OH

December 4, 2014, 12:00 pm

Gianaclis Caldwell at ACRES USA Conference

ACRES, Columbus OH

Gianaclis Caldwell will present multiple sessions at the ACRES USA Conference on December 4-6, in Columbus, OH. More details to come.

STATE COLLEGE, PA

February 6, 2015, 12:00 pm

Gianaclis Caldwell at PASA Farming the Future Conference

PASA Farming for the Future, State College PA

Gianaclis will teach two 80-minute workshops at the 2015 PASA Farming for the Future Conference in State College, PA on February 6&7 More details to come.