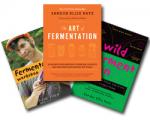 Like this book? Digg it!

Book Data
ISBN: 9781603584845
Year Added to Catalog: 2012
Book Format: Hardcover, Paperback, and DVD
Book Publisher: Chelsea Green
Release Date: September 15, 2012
Web Product ID: 716
The Sandor Katz Fermentation Set
This set combines Sandor Ellix Katz's two classic books on fermentation with a DVD of one of his popular fermentation workshops.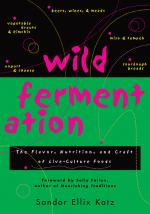 Bread. Cheese. Wine. Beer. Coffee. Chocolate. Most people consume fermented foods and drinks every day. For thousands of years, humans have enjoyed the distinctive flavors and nutrition resulting from the transformative power of microscopic bacteria and fungi. Wild Fermentation: The Flavor, Nutrition, and Craft of Live-Culture Foods is the first cookbook to widely explore the culinary magic of fermentation, and is the perfect book to get you started on your own delicious ferments.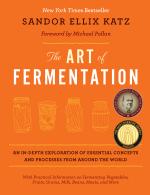 Once you've gotten excited about sauerkraut and enthused about homebrews, take your practice to the next level with Katz's latest book. The Art of Fermentation goes beyond recipes to teach the concepts and processes behind fermentation in ways that are simple enough to guide a reader through their first experience making sauerkraut or yogurt, and in-depth enough to provide greater understanding and insight for experienced practitioners. It is, quite simply, the most comprehensive guide to do-it-yourself home fermentation ever published.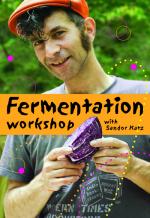 Sandor Katz's enthusiasm comes through in his writing, but there's nothing like learning from a master in person. You might not be able to hop a plane to Tennessee for one of Katz's workshop, but the final piece of this fermentation bundle is the perfect substitute. In the Fermentation Workshop with Sandor Katz DVD, Katz offers fermentation beginners and enthusiasts a chance to "sit in" on one of his popular workshops and learn through hands-on demonstration and instruction, accompanied by an interview on the benefits of fermentation, and social implications as it relates to food security. Watch the trailer:

US Orders Only.
International Orders: Click here.
Additional Information
Sandor Ellix Katz's Upcoming Events
Sandor Katz at the Sequatchie Valley Institute


, Whitwell TN

May 31, 2013, 12:00 am

Sandor Katz at Homestead Restoration and Fermentation Residency


, Woodbury TN

June 11, 2013, 12:00 pm

Sandor Katz at Vermont Food Systems Summit


, Burlington VT

June 27, 2013, 12:00 pm

Sandor Katz at Oregon Country Fair


, Eugene OR

July 12, 2013, 12:00 pm

Sandor Ellix Katz at The Farm


, Summertown TN

July 27, 2013, 12:00 pm