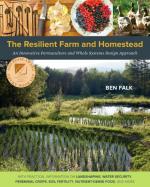 Like this book? Digg it!

Book Data
ISBN: 9781603584449
Year Added to Catalog: 2012
Book Format: Paperback
Book Art: Full-Color Throughout
Dimensions: 8 x 10
Number of Pages: 320
Book Publisher: Chelsea Green
Release Date: May 31, 2013
Web Product ID: 722
Also in Gardening & Agriculture
The Resilient Farm and Homestead
An Innovative Permaculture and Whole Systems Design Approach
Praise
"In The Resilient Farm and Homestead, Ben Falk gives us a delightful and inspiring description of his years developing a 10-acre permaculture farm in the Green Mountains of Vermont. Readers from regions outside New England, however, should not assume that Falk's practical, hard-won knowledge will not apply to them. His discussions invariably transcend the specific applications revealing principles which should be useful to homesteaders everywhere."

—Larry Korn, editor of The One-Straw Revolution and Sowing Seeds in the Desert by Masanobu Fukuoka
"Ben Falk calls his book about reviving a wornout hill farm in Vermont an example of resilience and regeneration; I call it pure natural magic. Grow rice in New England? Yes. Heat water to 155 degrees F on cold winter days at a rate of gallon a minute by piping it through a compost pile? Yes. How about dinner tonight of your own rack of lamb garnished with homegrown mushrooms? Yes. Your choice of scores of different vegetables and fruits even in winter? Yes. Plus, your own dairy products from your own sheep. All the while, the soil producing this magic, on a site once thought little more than a wasteland, grows yearly more fertile and secure from natural calamity."

—Gene Logsdon, author of A Sanctuary of Trees and Small-Scale Grain Raising
The Resilient Farm and Homestead is a terrific book. Simultaneously inspiring and practical, Ben Falk takes you from the why to the how...a journey where you will create a present and future filled with optimism and joy.

—Shannon Hayes, author of Long Way on a Little and Radical Homemakers
Imagine. Honoring biodiversity in a place we each commit to for the long haul is what it takes to address a rapidly changing climate. Problem solved! Plant trees, let greenness thrive, learn the ways of fungi, be joyful. Ben Falk provides the encouragement and critical know-how to create your own food-producing sanctuary in The Resilient Farm and Homestead. The time is now to engage in healing the land and secure an ongoing future for generations to come.

—Michael Phillips, author of The Holistic Orchard
Ben Falk extends the conversation about resilience to deep resilience--resilience from the level of personal attitudes and skills to the design and creation of the maximally resilient homestead.The Resilient Farm and Homestead weaves together permaculture theory as modified by actual practice on a ten-acre Vermont farm with a thorough preparedness guide for times of climate change and greater uncertainties of all kinds and sizes. The book is greatly enhanced by numerous glorious photos of permaculture plantings as hedge rows, rice paddies, people swimming in swale-enclosed ponds, fruit and vegetable harvesting, and foraging sheep, chickens, and ducks. I particularly appreciate that Falk tells us what didn't work as well as what did. This book will be essential reading for the serious prepper as well as for everyone interested in creating a more resilient lifestyle or landscape.

—Carol Deppe, author of The Resilient Gardener: Food Production and Self-Reliance in Uncertain Times
With The Resilient Farm and Homestead, Ben Falk has definitely planted the seeds of a positive, abundant legacy. This book outlines the process of designing one's homestead with not just the future in mind, but the imminently practical NOW! This one is going on my shelf next to Helen and Scott Nearing.

—Mark Shepard, author of Restoration Agriculture

US Orders Only.
International Orders: Click here.
Ben Falk's Upcoming Events
Ben Falk at PASA's 2014 Farming for the Future Conference


, State College PA

February 6, 2014, 9:00 am

Ben Falk at NOFA VT Winter Conference


Davis Center, University of Vermont, Burlington VT

February 15, 2014, 12:00 pm

Ben Falk at the New Hampshire Liberty Forum


Crowne Plaza Nashua, 2 Somerset Parkway, Nashua NH

February 22, 2014, 12:00 pm

Ben Falk at Lyndon State College


1001 College Rd, Lyndonville VT

April 22, 2014, 12:00 pm