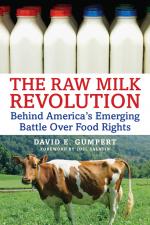 Like this book? Digg it!

Book Data
ISBN: 9781603582193
Year Added to Catalog: 2009
Book Format: Paperback
Dimensions: 6 x 9
Number of Pages: 288
Book Publisher: Chelsea Green Publishing
Old ISBN: 1603582193
Release Date: October 26, 2009
Web Product ID: 475
The Raw Milk Revolution
Behind America's Emerging Battle Over Food Rights
Foreword by Joel Salatin
Praise
"This week, I've read through an advance copy of David Gumpert's upcoming book The Raw Milk Revolution. I can now say: I GET IT. I might not agree with it 100%, but I get it. If you want to understand the vocal opposition to food safety laws, you should read Gumpert's book too. That's not the only reason to read it though. Even if you have little interest in raw milk, I think this book is a key piece in the puzzle to understanding the backwards priorities in America's food safety system."

—Jill Richardson, founder of La Vida Locavore.org and author of Recipe for America
"In this wonderful expose, David Gumpert exemplifies the best journalistic investigative techniques to examine this clash from the raw milk battlefront."

—Joel Salatin, from the Foreword
"In this fascinating book on raw milk, journalist David Gumpert delves into the messy politics of food safety, which pits government technocrats and prosecutors against farmers, consumers and their advocates. It's a compelling account, one that should be read by any raw milk devotee--and more importantly, by anyone concerned about the broken and arbitrary way the government regulates the food we eat."

—Samuel Fromartz, author of Organic Inc: Natural Foods and How They Grew
"David Gumpert has become the official chronicler of the 'raw milk movement' in the United States. The Raw Milk Revolution is a highly readable expose that successfully captures how the controversy over raw milk is at the center of a larger battle between the industrial food system and the local food movement. Gumpert explains how raw milk, more than any other food, threatens proponents of the 'germ theory,' centralized food production, and the 'nanny state.' The Raw Milk Revolution is an extremely important book because it sounds a clear warning that upholding the right to produce and consume raw milk is critical in preserving our food freedoms in general."

—Peter Kennedy, President, Farm-to-Consumer Legal Defense Fund
"The raw milk underground is one of the most contentious battlefields in the revolution to reclaim our food from industrialization, over-processing, and corporate control. In this book, David Gumpert investigates in great detail the health claims of both raw milk advocates and public health officials, as well the legal tactics being employed by government agencies to stop the growing movement to obtain and supply raw milk. His comprehensive analysis effectively deconstructs and illuminates the many complex issues of health, safety, and freedom that are raised by this debate."

—Sandor Ellix Katz, author of Wild Fermentation: The Flavor, Nutrition, and Craft of Live-Culture Foods and The Revolution Will Not Be Microwaved: Inside America's Underground Food Movements
"David Gumpert employs his expertise as a professional business writer to dig deep and wide into the exploding raw milk controversy. His compelling analysis of the science, economics, politics and history of 'nature's most perfect food' opens the door to a greater understanding of the major challenges facing our food and agriculture systems today. Anyone concerned with the health of our people, our environment and our democracy should heed his words."

—Dean Florez, Majority Leader, California State Senate
"David Gumpert has chronicled the Raw Milk War with insight and humor. He provides an important record of systematic government bias against Nature's perfect food. Must reading for raw milk fans and government officials alike."

—Sally Fallon Morell, President, The Weston A. Price Foundation

US Orders Only.
International Orders: Click here.
Additional Information
David E. Gumpert's Upcoming Events
David Gumpert at Mother Earth News Fair in Seven Springs


Mother Earth News Fair, Topeka KS

October 25, 2014, 12:00 pm