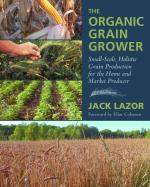 Like this book? Digg it!

Book Data
ISBN: 9781603583657
Year Added to Catalog: 2012
Book Format: Hardcover, PLC
Book Art: 2 16-Page Color Inserts
Dimensions: 8 x 10
Number of Pages: 448
Book Publisher: Chelsea Green
Release Date: July 28, 2013
Web Product ID: 724
Also in Gardening & Agriculture
The Organic Grain Grower
Small-Scale, Holistic Grain Production for the Home and Market Producer
Foreword by Eliot Coleman
Praise
Given our industrial agriculture, most of us assume that grain can only be grown in huge monocultures devoted to producing as much as possible, unmindful of the quality. But in The Organic Grain Grower, Jack Lazor provides us with a practical and attractive alternative. As a farmer he has demonstrated that one can provide an emerging market with a diversity of superior quality grains, grown on a small scale, using heirloom varieties and modest investment. This book is (as Eliot Coleman puts it) "like acquiring hundreds of years of knowledge in one book."

—Frederick Kirschenmann, author of Cultivating an Ecological Conscience
Jack Lazor did not wait for a new movement to inspire him. Jack inspired the movement. Jack began reclaiming the small farm's grain heritage right from the start of his farm many years ago. That is why this book is such a delight. These are the words of someone who has talked to all the old-timers and done it all himself. It is like acquiring hundreds of years of knowledge in one book. And he presents everything in an appealing, story-telling manner that will have you sitting up late reading page after page.

—Eliot Coleman, author of The Winter Harvest Handbook
"I believe I can safely say, without losing any money, that if you know of one fact truly necessary to growing grains organically in the United States that is not in this book, I'll pay you five bucks out of my own pocket. Plus there's a whole bunch of stuff about how to process and use grains in the barn or on the table that I have not found all in one place before."

—Gene Logsdon, author of Small-Scale Grain Growing
"Jack writes from the top of a mountain—the mountain of his life. His long years of experience are longer than his very beard, and the wisdom and distillation of his farming life are written here with clarity and graceful articulation. As he says in the book, 'people are hungry for meaning as well as food.' In this classic book, Jack provides not only the meaning, but also the methods required to succeed as a small-scale grower of organic grains."

—Jeffrey Hamelman, director, King Arthur Flour Bakery, and author of Bread: A Baker's Book of Techniques and Recipes
"The Organic Grain Grower is quite possibly the most complete and extensive text ever written on grain production in the Northeast. Jack Lazor's deep passion and knowledge creates an astounding story, and he shares his wisdom and experience generously. If you have ever wanted to grow grain, this is a book to own and cherish."

—Dr. Heather Darby, University of Vermont Extension Agronomist.
"Jack Lazor writes about grain growing with passion and experience. With this wealth of background and insight, readers will want to do it themselves, and with the lode of detailed information Jack provides, they will be able to do so. Although his focus is on medium-scale commercial production, many of the tips he shares are applicable to the backyard grain-grower as well."

—Will Bonsall, Khadighar Farm; director, Scatterseed Project