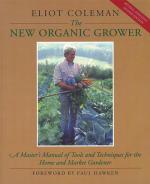 Like this book? Digg it!

Book Data
ISBN: 9780930031756
Year Added to Catalog: 1989
Book Format: Paperback
Book Art: 128 b&w illustrations, appendices, bibliography, index
Number of Pages: 8 x 10, 352 pages
Book Publisher: Chelsea Green Publishing
Old ISBN: 093003175X
Release Date: September 1, 1995
Web Product ID: 148
The New Organic Grower
A Master's Manual of Tools and Techniques for the Home and Market Gardener
Foreword by Paul Hawken
Praise
"This is the best book on small-scale farming I've read in years."

—Pat Stone, Mother Earth News
"Anybody seriously tempted to try. . . raising healthy food on healthy land. . . must first read The New Organic Grower. Coleman, who has been a quiet leader in the American organic movement for several decades, presents a balanced, logical exposition of his subject."

—Horticulture
"I know of no other person. . . who can produce better results on the land with an economy of effort and means than Eliot. He has transformed gardening from a task, to a craft, and finally to what Steward Brand would cal 'local science'."

—Paul Hawken, from the Foreword
"Coleman conveys a vast amount of detailed information without ever insulting the intelligence of the reader. He speaks as if to a fellow home or market gardener, sharing what works for him and discussing what he knows and what he doesn't know. The New Organic Grower will be the book you dog-ear and feather with yellow sticky pages, returning to it time and again."
"[A] classic gardening guide. Here master grower Coleman presents a simple, effective formula for growing quality organic vegetables, updating details on marketing harvests and using small-scale equipment."

—Midwest Book Review
"Every page is imbued with the wisdom and careful observations he and his associates have gathered; from soil structure to 'mobile greenhouses' that expand the growing season, each method is thought through to its ultimate impact on the earth and on economic survival. Well-presented graphics illustrate methods and techniques."

—Library Journal
"From first sentence to last, Coleman's book is a delight--an earnest guide written with an impish sense of humor. It will refresh anyone who wants to get the most from a vegetable garden yet doesn̢۪t want to devote too much time and energy to the process."

—Publishers Weekly
"Eliot Coleman's book will help market gardeners establish the vital and profitable link between farm and city during the 1990s. Every small-scale grower and serious gardener should have a copy."

—Robert Rodale