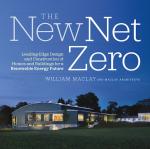 Like this book? Digg it!

Book Data
ISBN: 9781603584487
Year Added to Catalog: 2014
Book Format: Hardcover
Book Art: Full-Color Throughout
Dimensions: 10 x 10
Number of Pages: 576
Book Publisher: Chelsea Green
Release Date: June 23, 2014
Web Product ID: 700
Also in Green Building
The New Net Zero
Leading-Edge Design and Construction of Homes and Buildings for a Renewable Energy Future
"This book will become a game changer at a pivotal point in history. The New Net Zero is a technical manifesto that brings together engineering, ecology, architecture, energy, the construction industry, transportation, and design into a coherent whole. Its goal is to transform the built environment into landscapes that heal, while reversing climate change. Immensely practical, thorough, and technologically comprehensive: it is a masterful job."

—John Todd, founder, John Todd Ecological Designs
The Comprehensive Guide to Net-Zero Standards and Techniques, Including Construction Details
The new threshold for green building is not just low energy, it's net-zero energy. In The New Net Zero, sustainable architect Bill Maclay charts the path for designers and builders interested in exploring green design's new frontier: net-zero-energy structures that produce as much energy as they consume and are carbon neutral.
In a nation where traditional buildings use roughly 40 percent of the total fossil energy, the interest in net-zero building is growing enormously—among both designers interested in addressing climate change and consumers interested in energy efficiency and long-term savings. Maclay, an award- winning net-zero designer whose buildings have achieved high- performance goals at affordable costs, makes the case for a net-zero future; explains net-zero building metrics, integrated design practices, and renewable energy options; and shares his lessons learned on net-zero teambuilding.
Designers and builders will find a wealth of state-of-the-art information on such considerations as:
air, water, and vapor barriers;
embodied energy;
residential and commercial net- zero standards;
monitoring and commissioning;
insulation options;
costs;
and more.
The comprehensive overview is accompanied by several case studies, which include institutional buildings, commercial projects, and residences. Both new-building and renovation projects are covered in detail.
The New Net Zero is geared toward professionals exploring net-zero design, but also suitable for nonprofessionals seeking ideas and strategies on net-zero options that are beautiful and renewably powered.

Online for US Orders Only
International orders can be placed by phone (802-295-6300) or email
William Maclay's Upcoming Events
Bill Maclay at ACX 2015 Conference


60 Battery St. , Burlington VT 05401

May 20, 2015, 12:00 pm

Bill Maclay at AIA COTE Leadership Summit


, ME

June 5, 2015, 12:00 am

Bill Maclay at Energypath 2015


800 Linden St. , Scranton PA 18510

July 23, 2015, 8:30 am

Bill Maclay at 2015 DESIGNrealized Continuing Education Program


DESIGNrealized Webinar,

November 10, 2015, 3:00 pm

Bill Maclay at ABX 2015


415 Summer St. , Boston MA 02210

November 17, 2015, 12:00 am