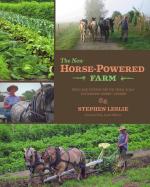 Like this book? Digg it!

Book Data
ISBN: 9781603584166
Year Added to Catalog: 2012
Book Format: Paperback
Book Art: Full-Color Throughout
Dimensions: 8 x 10
Number of Pages: 368
Book Publisher: Chelsea Green
Release Date: March 5, 2013
Web Product ID: 721
Also in Gardening & Agriculture
The New Horse-Powered Farm
Tools and Systems for the Small-Scale, Sustainable Market Grower
Foreword by Lynn Miller
Praise
"I applaud Stephen Leslie's important new book, a volume that combines information about good farming and working with animals. This volume moves animal power forward yet another step."

—Lynn Miller, from the Foreword
"The New Horse-Powered Farm is a thorough and practical book for anyone considering horse-powered farming. Stephen Leslie knows and understands what he writes about because he walks the talk. This is an extraordinarily comprehensive guide for anyone interested in horse-powered farming, and clearly shows how to get started, from the selection and care of the different horse breeds, training the horse and the teamster, soil fertility, plowing, tillage, seeding, and harvesting, to managing pastures and making hay. As a lifelong horse-powered farmer, I learned a lot from reading this book."

—David Kline, founding publisher of Farming Magazine
"Many equate draft horse-powered farming with tilting at windmills, a laudable but unrealistic ambition. In this book, however, Stephen Leslie demonstrates that draft horse power is ideally suited to vegetable market farming. Indeed, this comprehensive treatment of the subject provides the beginner or transitional farmer with the resources needed to succeed, as Leslie takes no shortcuts in his research and presentation of material."

—Joe Mischka, Editor & Publisher of Rural Heritage magazine
"It may seem strange to link the adjective 'ultra-modern' with the noun 'horse-farming,' but that's exactly what this new book does with unimpeachable justification. The New Horse-Powered Farm is surely the most detailed and easily understood compendium of instruction on how-to care for and use workhorses ever written. But there's more. Along the way, this book provides a complete manual on all aspects of modern market farming. Anyone looking for documentary proof that horses and small-scale farming are the wave of the future, look no further."

—Gene Logsdon, author of A Sanctuary of Trees and Small-Scale Grain Raising

US Orders Only.
International Orders: Click here.
Stephen Leslie's Upcoming Events
Stephen Leslie at NOFA-MA Summer Conference


, Amherst MA

August 9, 2013, 12:00 pm

Stephen Leslie at NOFA MA Summer Conference


NOFA MA Summer Conference, Amherst MA

August 10, 2013, 12:00 pm

Stephen Leslie at Northeast Animal-Powered Field Days


, Barton VT

September 28, 2013, 12:00 pm

Stephen Leslie at MainStreet Bookends


16 E Main Street, Warner NH

November 9, 2013, 2:00 pm