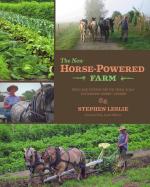 Like this book? Digg it!

Book Data
ISBN: 9781603584166
Year Added to Catalog: 2012
Book Format: Paperback
Book Art: Full-Color Throughout
Dimensions: 8 x 10
Number of Pages: 368
Book Publisher: Chelsea Green
Release Date: March 5, 2013
Web Product ID: 721
The New Horse-Powered Farm
Tools and Systems for the Small-Scale, Sustainable Market Grower
Foreword by Lynn Miller
"The New Horse-Powered Farm is a thorough and practical book for anyone considering horse-powered farming. Stephen Leslie knows and understands what he writes about because he walks the talk. This is an extraordinarily comprehensive guide for anyone interested in horse-powered farming, and clearly shows how to get started, from the selection and care of the different horse breeds, training the horse and the teamster, soil fertility, plowing, tillage, seeding, and harvesting, to managing pastures and making hay. As a lifelong horse-powered farmer, I learned a lot from reading this book."

—David Kline, founding publisher of Farming Magazine
With information on draft-powered vegetable and grains production, working in the woodlot, haying, and whole-farm management
In an era when fuel is a primary concern, draft horses are seen by many as the solution to small-scale, resilient farming with a closed-loop system. Horses bring farmers back to the roots of what it means to work the land and present a viable model for a lasting small farm.

The New Horse-Powered Farm is the first book of its kind, offering wisdom and techniques for using horse power on the small farm or homestead. "This book is not about trying to go back to some idyllic past," writes author and longtime horse farmer Stephen Leslie in the Introduction. "It is designed to be a manual to help us move a few steps forward to a more sustainable future."

The New Horse-Powered Farm sets the stage for incorporating draft power on the farm by presenting necessary information for experienced and novice teamsters alike, including:
• Getting started with workhorses;
• The merits of different draft breeds;
• Various training systems for the horse and teamster;
• Haying with horses, seeding crops, and raising small grains;
• In-depth coverage of tools and systems;
• Managing a woodlot, farm economics, education, agritourism,
and more.

Novice teamsters will also learn the basic tools of horse-drawn tillage and cultivation used for profitable horse-powered farming, with a spotlight on whole-farm management.

The New Horse-Powered Farm includes profiles throughout of farms that epitomize some of the exciting new trends in agriculture and highlights the new and old horse-drawn equipment used for profitable market gardening, including contributions directly from the farmers about what works and what doesn't. Leslie includes recent studies on the economics of horse-powered market gardening and offers a comparison between horse-, human-, and tractor-powered systems. A valuable resources section includes contact information for teamster schools, draft-animal publications, annual events, equipment and tool manufacturers, parts and repairs, and more.

The New Horse-Powered Farm is a must-have resource for any farmer, homesteader, or teamster seeking to work with draft power in a closed-loop farming system.