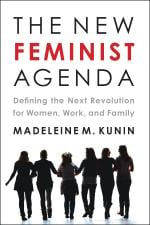 Like this book? Digg it!

Book Data
ISBN: 9781603584258
Year Added to Catalog: 2011
Book Format: Hardcover
Dimensions: 6 x 9
Number of Pages: 304
Book Publisher: Chelsea Green
Release Date: April 10, 2012
Web Product ID: 664
Also By This Author
The New Feminist Agenda
Defining the Next Revolution for Women, Work, and Family
Praise
"The New Feminist Agenda is a powerful declaration of family values. With clarity and conviction, Madeleine Kunin presents a strong case for the economics and ethics of equality at home, in the workplace, and in government. There are no shortcuts to social change: action, imagination, and optimism--starting right now."

—Barbara Lee, president and founder, Barbara Lee Family Foundation
"In this important new book, Madeleine Kunin argues that empowering women to succeed at home and at work is both good economics and good social policy. She presents a convincing roadmap for how we achieve that vision, and calls on all of us to be part of a brighter future."

—President Bill Clinton
"Madeleine Kunin draws from her vast experience to craft a sweeping yet highly realistic plan for how all of us can contribute to a more just world that will benefit women and men—and their families. She offers a timely prescription for much of what ails our business and political cultures."

—Brad Harrington, executive director, Center for Work & Family, Boston College
"Despite the substantial gains made by women in my lifetime, women and families need more. Governor Kunin has defined the new agenda for women—and like-minded men—leading the fight for progress in business, government, education, and society in the years ahead."

—Carolyn B. Maloney, U.S. Representative
"As one of the first woman governors, Madeleine Kunin knows how to make history and chart a positive course for women."

—Ellen Malcolm, founder, Emily's List
"Madeleine Kunin wants feminists to focus on the family. We've made great strides—nearly two-thirds of women are primary breadwinners for their families or share that responsibility with a partner—but this leaves more work to be done as full-time, stay-at-home caregivers become increasingly rare. Thank you, Madeleine, for pointing the way forward for 21st century feminists."

—Heather Boushey, Center for American Progress
"Madeleine Kunin has long recognized that women hold the potential to transform companies, countries, and the global economy as a whole. In The New Feminist Agenda, she convinces us that it will be the smart organizations and governments that embrace this reality and create the change necessary for all women to reach their full potential and to make their full contribution."

—James H. Wall, Deloitte
"The New Feminist Agenda is singing our song! It is time for us to take the next leap forward for women and families. When we get rid of the huge bias against mothers in hiring, wages, and advancement, we will have more women in leadership, far fewer children living in poverty, and a better future."

—Joan Blades, cofounder of MoveOn.org and MomsRising
"Women's social and economic gains over the past thirty years have been staggering – but equally staggering is how little America has changed in response. What's needed is a new feminist agenda to bring the country up to date. Madeleine Kunin, one of the nation's foremost leaders, has stepped up to the plate and delivered us a home run. The agenda she advocates is powerful, relevant, and necessary."

—Robert B. Reich, author of Aftershock, former U.S. Secretary of Labor
"Madeline Kunin reinvigorates the feminist movement, bringing the discussion of women's rights to a new generation and into our new social paradigm. This fresh look at the woman of today—balancing work and family—raises questions about how far we have really come and inspires a new advocacy agenda for women and families."

—Rosa L. DeLauro, member of Congress

US Orders Only.
International Orders: Click here.
Madeleine M. Kunin's Upcoming Events
Madeleine Kunin at YWCA Walla Walla


213 S. First Avenue, Walla Walla WA

April 30, 2014, 12:00 pm

Madeleine Kunin at the Vermont Bar Association Seminar for the Women's Division


45 Blush Hill Rd, Waterbury VT

May 9, 2014, 9:00 am

Madeleine Kunin at Women of UVM Spring Dinner


, Burlington VT

May 12, 2014, 5:30 pm

Madeleine Kunin at the Women's Professional Development Center of Rutland


230 West St., Rutland VT

May 14, 2014, 12:00 pm

Madeleine Kunin at the Economic Empowerment Conference


Capital Plaza Hotel, Montpelier VT

May 15, 2014, 10:00 am