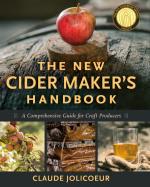 Like this book? Digg it!

Book Data
ISBN: 9781603584739
Year Added to Catalog: 2013
Book Format: Hardcover, PLC
Book Art: Full-Color Throughout
Dimensions: 8 x 10
Number of Pages: 352
Book Publisher: Chelsea Green
Release Date: September 17, 2013
Web Product ID: 755
The New Cider Maker's Handbook
A Comprehensive Guide for Craft Producers
Reviews, Interviews, & Articles
"Jolicoeur is a mechanical engineer who delights in the details of cider-making, from calculations and formulas to spreadsheets. Based in Quebec, he 'discovered' cider in 1988 after finding rows of abandoned apple trees on newly acquired land. His vocation and avocation combine to bring readers a step-by-step guide with a number of color photographs. It starts simply enough, with an overview of the process, apple growing and selection, and seven principles for producing the best, from 'good cider needs great apples" to "remember what you did.' After a careful review of dozens of regional apple varieties (and a few pears, to make the cider equivalent called perry), complete with notes on sugar, acidity, tannin, juice yield, harvest date, and pressing season, he dives into the more difficult processes, including juice extraction, fermentation, and troubleshooting. Some good chemistry basics help, as do an 'I can build it' mentality and competency."—Booklist
"Award-winning cider maker Jolicoeur provides a comprehensive guide to cider making, covering the selection of apple varieties, chemical formulas and charts, and the construction of mills and presses. Though Jolicoeur claims that his work is appropriate for the amateur cider maker, his perspective as a mechanical engineer results in a book that is far too technical, dense, and text heavy for a novice. However, its accuracy and tone will be of value for serious hobbyists and small-scale professional cider makers."—Library Journal
interviews

US Orders Only.
International Orders: Click here.
Claude Jolicoeur's Upcoming Events
Claude Jolicoeur at NOFA NY


Saratoga Hilton City Center, Saratoga Springs NY

January 25, 2014, 2:45 pm