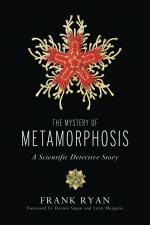 Like this book? Digg it!

Book Data
ISBN: 9781603583411
Year Added to Catalog: 2010
Book Format: Hardcover
Dimensions: 6 x 9
Number of Pages: 320
Book Publisher: Chelsea Green
Release Date: March 23, 2011
Web Product ID: 612
Also in Sciencewriters & Science
The Mystery of Metamorphosis
A Scientific Detective Story
Praise
"The enormity of Ryan's task and the complexity of the cross-disciplinary research would have overwhelmed a lesser writer. Part history lecture and part science class, Ryan brings an accessible passion to the subject comparable to Carl Sagan's popularization of astronomy."

——Joseph Thompson, Foreword Reviews
"An impressive work. Frank Ryan's thorough detection and crisp writing expertly bring forth the simple but profound discoveries that shape our understanding of metamorphosis, and challenge our ideas about evolution. The idea that dissimilar sea creatures can link together to create new creatures, and thus encourage evolution, is fascinating; and, among the scientists Ryan introduces, one makes a convincing case for just that sort of wonder."

—Brian Garfield, author of Hopscotch and The Meinertzhagen Mystery: The Life and Legend of a Colossal Fraud; past director, Mystery Writers of America
"We tend to think of every detail of an animal's appearance, and most of its behavior, as the product of genes tweaked by environmental influences that induce slight changes in the outcome, as though that explains everything. So, can there be anything more mysterious than, say, a flesh-eating maggot turning a few days later into an iridescent green bottle fly on whom every single bristle is accounted for, or a leaf-eating tomato hornworm caterpillar becoming a hummingbird-like analogue hovering to suck nectar from flowers? Who are the biologists bold enough to tackle such a problem of profound transformation where 'environment' as we normally think of it has no bearing whatsoever? Has this not been THE most exciting story in biology? This deeply informed account delves into the fascinating history of the study of metamorphosis. It's a saga, and Frank Ryan does it justice."

—Bernd Heinrich, author of The Nesting Season, Winter World, and Mind of the Raven.
"In this scintillating book Frank Ryan gives us a skillful and detailed introduction to the intricate world of animal metamorphosis and to the astounding idea (pioneered by Donald Williamson) that the larval and adult forms of many animals were once wildly different creatures whose genomes melded during moments of extraordinary trans-species hybridization. Read this book to experience the feel and excitement of a massive paradigm shift in science as told by a brilliant science writer."

—Stephan Harding, Head of Holistic Science at Schumacher College and author of Animate Earth: Science, Intuition and Gaia.
"Frank Ryan tells the story of animal metamorphosis by letting you follow the explorations of scientists who have researched the remarkable transformations of animal larvae into their adult form. The book's main protagonist, biologist Donald Williamson, is an expert in the minutiae and mind-boggling diversity of metamorphosis in marine invertebrates. This expertise allows him to see the shortcomings of conventional theories that attempt to explain the evolutionary origins of metamorphosis. He comes to postulate his own radical theory of larval origins through hybridization and, as a result, hits hard against the wall of scientific orthodoxy. By engaging in Williamson's story you not only learn about the rich and fascinating phenomenon of animal metamorphosis, you also learn about science as a complex human endeavor in which new ideas are hardly welcomed with open arms."

—Craig Holdrege, Director, The Nature Institute
"Prepare your mind for its own Cambrian explosion. Frank Ryan's breathtaking explanations for life's most wondrous transformations are by turns shocking, thrilling, and revelatory."

—Sy Montgomery, Award-winning naturalist and author of Birdology and The Good, Good Pig