Joel Salatin, author, advocate, proprietor of Polyface Farm, and sometimes dubbed "the high priest of the pasture," has been changing the way livestock farmers do business for decades. His common sense, but cutting edge methods of "grass farming" produce healthy beef cattle, pork, and poultry, and his quirky, passionate prose spreads the gospel of Earth stewardship.
Now you can get three of Salatin's classic farming books in a convenient, discounted set: The Sheer Ecstasy of Being a Lunatic Farmer, You Can Farm, and Salad Bar Beef.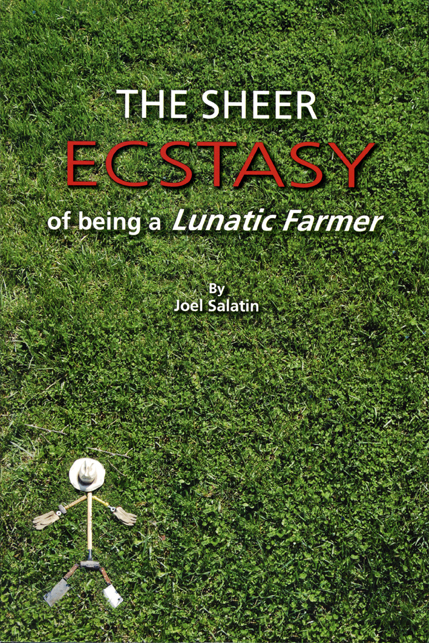 The Sheer Ecstasy of Being a Lunatic Farmer
Foodies and environmentally minded folks often struggle to understand and articulate the fundamental differences between the farming and food systems they endorse and those promoted by Monsanto and friends. With visceral stories and humor from Salatin's half-century as a "lunatic" farmer, Salatin contrasts the differences on many levels: practical, spiritual, social, economic, ecological, political, and nutritional.
In today's conventional food-production paradigm, any farm that is open-sourced, compost-fertilized, pasture-based, portably-infrastructured, solar-driven, multi-speciated, heavily peopled, and soil-building must be operated by a lunatic. Modern, normal, reasonable farmers erect "No Trespassing" signs, deplete soil, worship annuals, apply petroleum-based chemicals, produce only one commodity, erect Concentrated Animal Feeding Operations, and discourage young people from farming.
Anyone looking for ammunition to defend a more localized, solar-driven, diversified food system will find an entire arsenal in these pages. With wit and humor honed during countless hours working on the farm he loves, and then interacting with conventional naysayers, Salatin brings the land to life, farming to sacredness, and food to ministry.
Divided into four main sections, the first deals with principles to nurture the earth, an idea mainstream farming has never really endorsed. The second section describes food and fiber production, including the notion that most farmers don't care about nutrient density or taste because all they want is shipability and volume. The third section, titled "Respect for Life," presents an apologetic for food sacredness and farming as a healing ministry. Only lunatics would want less machinery and pathogenicity. Oh, the ecstasy of not using drugs or paying bankers. How sad. The final section deals with promoting community, including the notion that more farmers would be a good thing.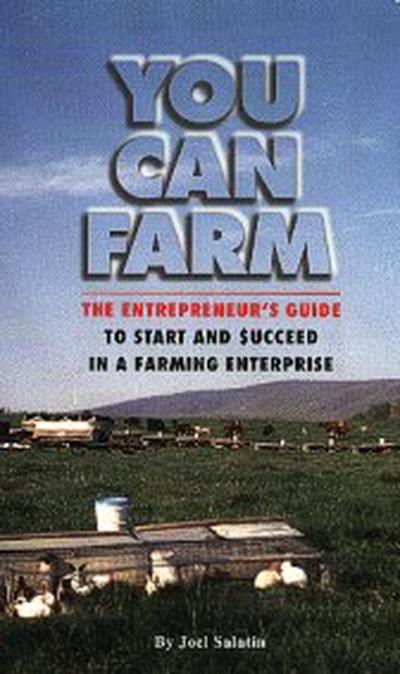 You Can Farm: The Entrepreneur's Guide to Start and Succeed in a Farming Enterprise
Have you ever desired, deep within your soul, to make a comfortable full-time living from a farming enterprise? Too often people dare not even vocalize this desire because it seems absurd. It's like thinking the unthinkable.
After all, the farm population is dwindling. It takes too much capital to start. The pay is too low. The working conditions are dusty, smelly and noisy: not the place to raise a family. This is all true, and more, for most farmers.
But for farm entrepreneurs, the opportunities for a farm family business have never been greater. The aging farm population is creating cavernous niches begging to be filled by creative visionaries who will go in dynamic new directions. As the industrial agriculture complex crumbles and our culture clambers for clean food, the countryside beckons anew with profitable farming opportunities.
While this book can be helpful to all farmers, it targets the wannabes, the folks who actually entertain notions of living, loving and learning on a piece of land. Anyone willing to dance with such a dream should be able to assess its assets and liabilities; its fantasies and realities. "Is it really possible for me?" is the burning question this book addresses.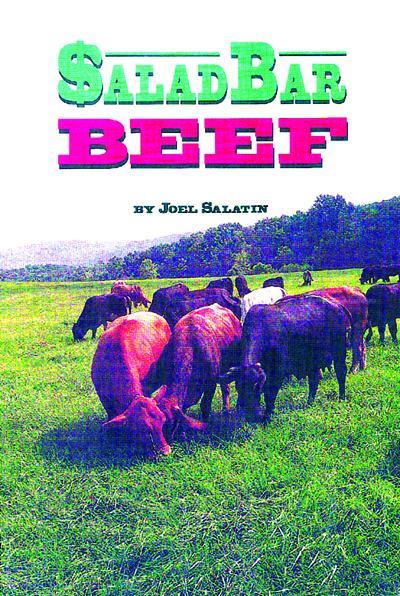 Salad Bar Beef
In a day when beef is assailed by many environmental organizations and lauded by fast-food chains, a new paradigm to bring reason to this confusion is in order. With farmers leaving the land in droves and plows poised to "reclaim" set-aside acres, it is time to offer an alternative that is both land and farmer friendly.
Beyond that, the salad bar beef production model offers hope to rural communities, to struggling row-crop farmers, and to frustrated beef eaters who do not want to encourage desertification, air and water pollution, environmental degradation and inhumane animal treatment. Because this is a program weighted toward creativity, management, entrepreneurism and observation, it breather fresh air into farm economics.