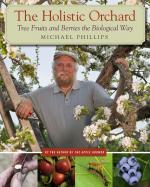 Like this book? Digg it!

Book Data
ISBN: 9781933392134
Year Added to Catalog: 2011
Book Format: Paperback
Book Art: 4-color
Dimensions: 8 x 10
Number of Pages: 432
Book Publisher: Chelsea Green
Release Date: December 27, 2011
Web Product ID: 640
The Holistic Orchard
Tree Fruits and Berries the Biological Way
Praise
"The words 'holistic' and 'comprehensive' barely do honor to Michael Phillips' scope in The Holistic Orchard. The author has woven multiple strands of orchard knowledge -- based on his expansive vision and a lifetime of experience, together with the wisdom of researchers and fellow fruit growers -- into a brilliant web that captures the wonderful complexity of the orchard ecosystem. A sparkling joy to behold!"

—Guy Ames, orchardist and tree fruit specialist with ATTRA, the National Sustainable Agriculture Information Service
"For decades experts have insisted that organic orcharding is an impossibility. Michael Phillips has led the effort to show that the truly sustainable, organic orchard is something we all can have. His example has been an inspiration. His tireless research has provided a road map to creating our own holistic orchards."

—John Bunker, apple historian and author, Not Far from the Tree
"Michael Phillips does it again! His ability to understand and explain the parts, interactions and emergent properties of orchard systems is unparalleled. The Holistic Orchard integrates fundamental biology with the practical realities of ecologically sound management. The book describes the trek from healthy soil to healthy people, with great fruit all along the way. This is done in a way that can only be achieved by a highly experienced orchardist-practitioner-author-philosopher."

—George W. Bird, George W. Bird, Professor of Nematology, Michigan State University
"Michael Phillips' Holistic Orchard is a seminal work, to be compared with Sir Albert Howard and J.I. Rodale's classic books on soil and organic gardening. This is deep horticulture at its best, showing just how and what we must do to orchard sustainably and ecologically."

—Bill MacKentley, St. Lawrence Nurseries
A new way of thinking is called for given the failure of chemicals to solve problems and feed the world. Mixing up dozens of organic thoughts, Michael Phillips ushers us into the 21st century and virtually creates a new language so we can really understand what is happening in our orchards. Shake off those 20th century blues and let's move on with The Holistic Orchard as a guiding light.

—Tim Bates, biodynamic orchardist, The Apple Farm, Philo, California
Rooted in the author's many years of organic orcharding experience, this book blends ideas from soil science, holistic health, permaculture, and traditional fruit growing into a powerful new approach to orchard design and care. Phillips' first-hand knowledge anchors this innovative and highly readable book in practical wisdom that both beginner and long-time fruit growers will find invaluable.

—Toby Hemenway, author of Gaia's Garden: A Guide to Home-Scale Permaculture
The Holistic Orchard is a stimulating account of fruit production from a biological rather than chemical approach. Phillips' orchard philosophy--learned from keen observation and reflection--will fall and clobber you like a giant Newtonian apple; then, your walk through the orchard will never be the same. Digesting this book is like tasting a delectable new apple variety for the first time.

—Tom Burford, orchard consultant, author, apple historian

US Orders Only.
International Orders: Click here.
Additional Information
Michael Phillips's Upcoming Events
Michael Phillips at Vintage Virginia Apples


Vintage Virginia Apples, Charlottesville VA

May 3, 2014, 9:00 am

Michael Phillips at Cocagne River Orchard


Verger de la rivière, 501 Cocagne South Rd, Cocagne New Brunswick, Canada

June 21, 2014, 12:00 pm

Michael Phillips at the 2014 Cider Days


Various Locations, Shelburne MA

November 1, 2014, 10:00 am