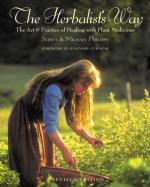 Like this book? Digg it!

Book Data
ISBN: 9781931498760
Year Added to Catalog: 2005
Book Format: Paperback
Book Art: photographs, appendices, resources
Number of Pages: 8 x 10, 352 pages
Book Publisher: Chelsea Green Publishing
Old ISBN: 1931498768
Release Date: April 30, 2005
Web Product ID: 329
The Herbalist's Way
The Art and Practice of Healing with Plant Medicines
Foreword by Rosemary Gladstar
"And then there are those—only a few, a rare book here and there—that are destined to become herbal classics, treasured like old friends, thumbed through again and again for their depth of herbal wisdom, for their teachings, and for their inner brilliance that illuminates this ancient field of plant study. Michael and Nancy Phillips have created such a special and inspirational work."

—Rosemary Gladstar, From the Foreword
This updated edition of The Village Herbalist provides a complete guide to the art and practice of herbalism, as well as an introduction to the herbalist's role in family and community life. Inspirational profiles of practicing herbalists from across the country add a human touch to the authors' wealth of practical herbal knowledge.
The Herbalist's Way includes time-honored healing wisdom from many cultures, as well as information on:
• Roles and responsibilities of herbalists in their communities
• Herbal workshops, conferences, and education centers
• Growing, drying, and preparing medicinal herbs
• Learning to listen to clients and recommend holistic treatments for healing and continued wellness
• Licensing, marketing, and other legal and business issues facing modern herbalists
• Comprehensive resources and suggestions for building your herbal library