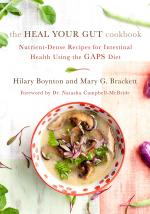 Like this book? Digg it!

Book Data
ISBN: 9781603585613
Year Added to Catalog: 2014
Book Format: Paperback
Book Art: 4 Color
Dimensions: 7 x 10
Number of Pages: 320
Book Publisher: Chelsea Green
Release Date: September 2, 2014
Web Product ID: 815
Also in Food & Health
The Heal Your Gut Cookbook
Nutrient­-Dense Recipes for Intestinal Health Using the GAPS Diet
Foreword by Dr. Natasha Campbell-McBride
Upcoming Author Events
Hilary Boynton's Events
BURLINGTON, VT

February 15, 2015, 10:45 am

Mary Brackett at NOFA-VT Winter Conference

UVM Davis Center, Burlington VT 05405

Mary will teach a workshop on the GAPS Diet at the 2015 NOFA-VT Winter Conference. The GAPS Diet, which stands for Gut and Psychology Syndrome, refers to disorders, including ADD/ADHD, autism, addictions, depression and obsessive-compulsive disorder, stemming from or exacerbated by leaky gut and dysbiosis. This workshop will take place at 10:45 AM on Sunday, February 15th at the UVM Davis Center.

GROTON, MA

March 26, 2015, 6:00 pm

Mary Brackett at Groton Wellness Event

Groton Wellness, 495 Main Street, Groton MA

Mary Brackett will give a lecture and do a book signing at the Groton Wellness Event on March 26 from 6-8PM. More details to come.

PERKINSVILLE, VT

October 23, 2015, 12:00 pm

Mary Brackett and Hilary Boynton at The Inn at Weathersfield

The Inn at Weathersfield, Perkinsville VT

Hilary and Mary will teach an intensive culinary course October 23-25 at The Inn at Weathersfield. The focus of the weekend will be "The Power of Nutritional Healing: Exploring the GAPS Diet." More details to come...
Mary Brackett's Events

Online for US Orders Only
International orders can be placed by phone (802-295-6300) or email
Hilary Boynton's Upcoming Events
Mary Brackett at NOFA-VT Winter Conference


UVM Davis Center, Burlington VT 05405

February 15, 2015, 10:45 am

Mary Brackett at Groton Wellness Event


Groton Wellness, 495 Main Street, Groton MA

March 26, 2015, 6:00 pm

Mary Brackett and Hilary Boynton at The Inn at Weathersfield


The Inn at Weathersfield, Perkinsville VT

October 23, 2015, 12:00 pm