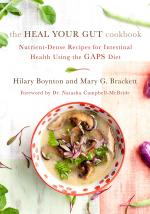 Like this book? Digg it!

Book Data
ISBN: 9781603585613
Year Added to Catalog: 2014
Book Format: Paperback
Book Art: 4 Color
Dimensions: 7 x 10
Number of Pages: 320
Book Publisher: Chelsea Green
Release Date: September 2, 2014
Web Product ID: 815
Also in Food & Health
The Heal Your Gut Cookbook
Nutrient­-Dense Recipes for Intestinal Health Using the GAPS Diet
Foreword by Dr. Natasha Campbell-McBride
"Over my many years of healing through diet, especially healing the gut through diet, the problem has always been how to make the information and the food readily available to those in need. In the beginning, the food was not to be had, and the diet plans, recipes, and explanations were not to be found. Over the years this has begun to change. There are ever-expanding farmers markets, small businesses, and cooperative ventures that are filling the food-availability gap. Hilary's and Mary's book is a valuable addition to the question of what to do with the food and why. This book is another small step in my eventual fading away, as I can finally say 'It's all out there now. Just follow the advice and wonderful recipes; my work is done.'"

—Dr. Thomas Cowan, author of The Fourfold Path to Healing and coauthor of The Nourishing Traditions Book of Baby & Child Care
Simple, delicious, family-friendly recipes for those following the GAPS Diet.
With more than two-hundred straightforward, nutrient-dense, and appealing recipes, The Heal Your Gut Cookbook was created by GAPS Diet experts Hilary Boynton and Mary G. Brackett to help heal your gut and to manage the illnesses that stem from it.
Developed by pioneering British MD Dr. Natasha Campbell-McBride, who provides the book's Foreword, Gut and Psychology Syndrome (GAPS) refers to disorders, including ADD/ ADHD, autism, addictions, depression, and obsessive-compulsive disorder, stemming from or exacerbated by leaky gut and dysbiosis. GAPS also refers to chronic gut-related physical conditions, including celiac disease, rheumatoid arthritis, diabetes type one, and Crohn's disease, as well as asthma, eczema, allergies, thyroid disorders, and more. An evolution of the Specific Carbohydrate Diet, GAPS can also appeal to followers of the Paleo Diet.
In The Heal Your Gut Cookbook readers will learn about the key cooking techniques and ingredients that form the backbone of the GAPS Diet: working with stocks and broths, soaking nuts and seeds, using coconut, and culturing raw dairy. The authors offer encouraging, real-life perspectives on the life-changing improvements to the health of their families by following this challenging, but powerful, diet.
The GAPS Diet is designed to restore the balance between beneficial and pathogenic intestinal bacteria and seal the gut through the elimination of grains, processed foods, and refined sugars and the carefully sequenced reintroduction of nutrient-dense foods, including bone broths, raw cultured dairy, certain fermented vegetables, organic pastured eggs, organ meats, and more.
The Heal Your Gut Cookbook is a must-have if you are following the GAPS Diet, considering the GAPS Diet, or simply looking to improve your digestive health and—by extension—your physical and mental well-being.

Online for US Orders Only
International orders can be placed by phone (802-295-6300) or email
Additional Information
Hilary Boynton's Upcoming Events
Hilary Boynton at Two Authors and a Chef Event


Kristin Canty's House, Boston MA

September 19, 2014, 1:00 pm

Hillary Boynton and Mary G. Brackett at Massachusetts Regional Wise Traditions Conference


Southbridge Hotel and Convention Center, 14 Mechanic Street, Southbridge MA 01550

September 20, 2014, 12:00 pm

Mary Brackett at the Boston Fermentation Festival


Boston Fermentation Festival, Jamaica Plain MA

September 27, 2014, 12:00 pm

Hilary Boynton and Mary Brackett at 2014 ACRES Conference


ACRES, Columbus OH

December 4, 2014, 12:00 pm

Mary Brackett and Hilary Boynton at The Inn at Weathersfield


The Inn at Weathersfield, Perkinsville VT

October 23, 2015, 12:00 pm