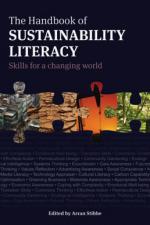 Like this book? Digg it!

Book Data
ISBN: 9781900322607
Year Added to Catalog: 2009
Book Format: Paperback
Dimensions: 6 1/4 x 9 1/4
Number of Pages: 224
Book Publisher: Green Books
Release Date: February 15, 2010
Web Product ID: 511
Also in Nature & Environment
The Handbook of Sustainability Literacy
Skills for a Changing World
by
Edited by Arran Stibbe
Responding to the threats of climate change, peak oil, resource deletion, economic uncertainty and energy insecurity demands the utmost in creativity, ingenuity, and new ways of thinking in order to reinvent self and society. In The Handbook of Sustainability Literacy, leading sustainability educators are joined by permaculturists, literary critics, ecologists, artists, journalists, engineers, mathematicians, and philosophers in examining the skills needed in the twenty-first century. Among the many skills, attributes, and values described in this volume are values reflection, coping with complexity, permaculture design, transition skills, advertising awareness, effortless action, and ecological intelligence, each accompanied by ideas for active-learning exercises to help develop the skill. Far from being a rigid or definitive statement of the "one right way," however, the handbook is exploratory, aiming to open up new, unthought-of paths, possibilities, and choices. It is intended primarily for educators across the spectrum from higher education to informal education, but is also suitable for learners themselves and anyone interested in the literally "vital" issue of the skills we need to survive and thrive in the twenty-first century and build a more sustainable future. Contributors include John Naish, Satish Kumar, Patrick Whitefield, John Blewitt, Stephan Harding, and Stephen Sterling.