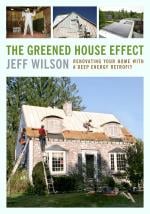 Like this book? Digg it!

Book Data
ISBN: 9781603584500
Year Added to Catalog: 2012
Book Format: Paperback
Book Art: Full-Color Throughout
Dimensions: 7 x 10
Number of Pages: 280
Book Publisher: Chelsea Green
Release Date: May 24, 2013
Web Product ID: 723
Also in Green Building
The Greened House Effect
Renovating Your Home with a Deep Energy Retrofit
Praise
"Professionals will debate the techniques, and economists will debate the payback, but no one will debate Jeff Wilson's pluck in attacking his own Deep Energy Retrofit — all the while living with his family in the house! The Greened House Effect is a good overview of the DER field and a great argument for moving out while you do the work! Jeff must have a very patient wife!"

—Steve Thomas, former host of PBS's This Old House and Planet Green's Renovation Nation
"I live on an island. There are 17,000 existing buildings here. Each will be brought into the 21st century, at some point, or be summarily discarded — demolished, dumped, and replaced. The Deep Energy Retrofit method is the key to restoring our existing housing stock. At South Mountain Company we practice this approach. Jeff Wilson does too, and he has written a comprehensive and robust introduction to the subject that balances practical instructions with design, engineering, and social/environmental context. The Greened House Effect is very informative. And it's a good read, too."

—John Abrams, President and CEO, South Mountain Company, Inc.; author of Companies We Keep
"Jeff Wilson has provided an extraordinary service to all of us who are struggling to make our homes more energy efficient. I know of no other book that takes the reader on such a thoroughly entertaining but equally fact-filled tour of all the options and challenges in making an older home equal to, or better than, new. For anyone who is serious about making their existing home a better custodian of our planet's resources, The Greened House Effect is a must read. If I could add an addendum to my own book, Not So Big Remodeling, I'd tell my readers, 'To really understand how to do a Deep Energy Retrofit right, read The Greened House Effect.'"

—Sarah Susanka, architect; author of The Not So Big House series
"The Greened House Effect is inspiring, empowering, informative, and entertaining. Jeff Wilson puts a human face on a technical undertaking by relating his family's Deep Energy Retrofit (DER) story as an adventure drama — with defining moments, 'learning experiences,' and palpable joys — interspersed with solid advice about how to carry out one's own DER. At the same time, Wilson views a single DER in the context of a growing movement that can positively impact our economy, environmental pollution, and national security. The Greened House Effect means a better life, for one family and for the world."

—Carol Venolia, architect, Come Home to Nature; coauthor, Natural Remodeling for the Not-So-Green House

US Orders Only.
International Orders: Click here.
Jeff Wilson's Upcoming Events
Jeff Wilson at the Seven Springs Mother Earth News Fair


Mother Earth News Fair, Seven Springs PA

September 12, 2014, 12:00 pm