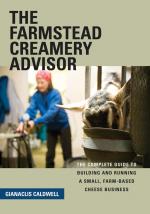 Like this book? Digg it!

Book Data
ISBN: 9781603582216
Year Added to Catalog: 2009
Book Format: Paperback
Book Art: Full color throughout
Dimensions: 7 x 10
Number of Pages: 256
Book Publisher: Chelsea Green Publishing
Release Date: May 8, 2010
Web Product ID: 504
The Farmstead Creamery Advisor
The Complete Guide to Building and Running a Small, Farm-Based Cheese Business
Praise
Where there's a will, there's a 'whey.' For both the dreamer and those who've already set their sights on the beauty of being a cheesemaker, here is all the information to get started in business and survive. Caldwell's first-hand knowledge takes the reader from their fledgling idea to selling their finished product, and is presented in an easy-to-understand format. Watch out—you may start a venture that just might succeed! This is a brilliant how-to guide, and just what us stewards and entrepreneurs need during a time when our farmland must be saved.

—Ricki Carroll, Owner of cheesemaking.com
The Farmstead Creamery Advisor is an authoritative, yet friendly and approachable, guide to the process of establishing a farmstead creamery. Simply a must-have for anyone who wants to realize their dream of making and selling cheese.

—Tami Parr, Author of Artisan Cheese of the Pacific Northwest
Here's a nuts-and-bolts, no-nonsense, and essential guide for anyone curious about starting a farmstead dairy. Who better to explain the intricacies and pitfalls of the cheesemaking business than a true practitioner—a woman with a lifetime of experience caring for cows and goats.

—Brad Kessler, author of Goat Song: A Seasonal Life, A Short History of Herding, and the Art of Making Cheese
This delightful book is a road map to success for aspiring farmstead cheesemakers. It will help them plan, implement, and develop their new businesses. Passionate stories of experience are revealed, giving great insight into becoming a sustainable, conscientious, and entrepreneurial cheesemaker—including common pitfalls and how best to avoid them. It's about time someone writes such a comprehensive guide! I will recommend this book to every aspiring cheesemaker I know. We would have saved numerous hours and dollars with such an invaluable resource.

—David Gremmels, President of The American Cheese Society; Co-owner of Rogue Creamery
The Farmstead Creamery Advisor is thorough, eloquent, and generous—a must-have book for anyone considering establishing a creamery. Each point is covered in detail: from the fundamental reasons for going into the business to begin with, to the design of the make room, all the way to the often-neglected exit strategy. This is a good business book for any-sized dairy.

—Max McCalman, author of Mastering Cheese: Lessons for Connoisseurship from a Maitre Fromager
There have been many books written, and classes given on the subject of cheesemaking, but primarily from the process-oriented view. Little has been written about how to get started, or the answer to, "What are we up against here?" The Farmstead Creamery Advisor fills in those blanks. One of the best pieces of advice in this book is for cheesemakers to build a base foundation beginning with proper business management. No matter how good the cheese, or how much you love your animals; everything depends upon a good business plan to eventually turn a profit. Especially useful, in addition, is Caldwell's chapter on developing an aging space in light of increasing energy costs. This has been a not-so-well thought out part of many cheesemaking projects, and could be some of the most important information in this book. To be sure, Gianaclis Caldwell asks the big questions that need to be considered before beginning to develop such a project; it's a true reality check every aspiring cheesemaker needs. In fact, this book should be in all their libraries.

—Jim Wallace, cheesemaking.com

US Orders Only.
International Orders: Click here.
Additional Information
Gianaclis Caldwell's Upcoming Events
Gianaclis Caldwell at the 8th Annual California Artisan Cheese Festival


Sheraton Sonoma County, Petaluma CA

March 22, 2014, 12:00 pm

Gianaclis Caldwell at Mother Earth News Fair in Asheville


Mother Earth News Fair, Asheville NC

April 12, 2014, 12:00 pm

Gianaclis Caldwell at Mother Earth News Fair in Puyallup, WA


Mother Earth News Fair, Puyallup WA

May 31, 2014, 12:00 pm

Gianaclis Caldwell at American Cheese Society Conference


American Cheese Society , Sacramento CA

July 29, 2014, 12:00 pm