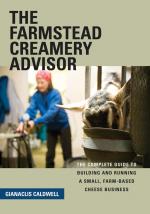 Like this book? Digg it!

Book Data
ISBN: 9781603582216
Year Added to Catalog: 2009
Book Format: Paperback
Book Art: Full color throughout
Dimensions: 7 x 10
Number of Pages: 256
Book Publisher: Chelsea Green Publishing
Release Date: May 8, 2010
Web Product ID: 504
The Farmstead Creamery Advisor
The Complete Guide to Building and Running a Small, Farm-Based Cheese Business
This delightful book is a road map to success for aspiring farmstead cheesemakers. It will help them plan, implement, and develop their new businesses. Passionate stories of experience are revealed, giving great insight into becoming a sustainable, conscientious, and entrepreneurial cheesemaker—including common pitfalls and how best to avoid them. It's about time someone writes such a comprehensive guide! I will recommend this book to every aspiring cheesemaker I know. We would have saved numerous hours and dollars with such an invaluable resource.

—David Gremmels, President of The American Cheese Society; Co-owner of Rogue Creamery
There has never been a better time to be making and selling great cheese. People worldwide are consuming more high-quality, handmade cheese than ever before. The number of artisan cheesemakers has doubled in recent years, and many of the industry's newcomers are "farmstead" producers— those who work only with the milk of their own animals. Today, more than ever before, the people who choose to become farmer-cheesemakers need access to the knowledge of established cheese artisans who can help them build their dream.
Few career choices lead to such extremes of labor, emotion, and monetary challenge. In The Farmstead Creamery Advisor, respected cheesemaker, instructor, and speaker Gianaclis Caldwell walks would-be producers through the many, and often confusing, steps and decisions they will face when considering a career in this burgeoning cottage industry. This book fills the gap that exists between the pasture and cheese plate. It goes far beyond issues of caring for livestock and basic cheesemaking, explaining business issues such as:
Analyzing your suitability for the career
Designing and building the cheese facility
Sizing up the market
Negotiating day-to-day obstacles
Ensuring maximum safety and efficiency
Drawing from her own and other cheesemakers' experiences, Caldwell brings to life the story of creating a successful cheesemaking business in a practical, organized manner. Absolutely essential for anyone interested in becoming a licensed artisan cheesemaker, The Farmstead Creamery Advisor will also appeal to the many small and hobby-farm owners who already have milking animals and who wish to improve their home dairy practices and facilities.

US Orders Only.
International Orders: Click here.
Additional Information
Gianaclis Caldwell's Upcoming Events
Gianaclis Caldwell at Mother Earth News Fair


,

June 1, 2013, 12:00 am

Gianaclis Caldwell at Auburn Library


1140 Auburn Way S , Auburn WA 98002

June 3, 2013, 2:00 pm

Gianaclis Caldwell at the American Cheese Society Conference


American Cheese Society Conference, Madison WI

July 31, 2013, 12:00 pm

Gianaclis Caldwell at College of Marin


1800 Ignacio Blvd, Novato CA 94949

October 25, 2013, 12:00 pm

Gianaclis Caldwell at 2013 Wise Traditions Conference


Weston Price Conference, Atlanta GA

November 10, 2013, 12:00 pm