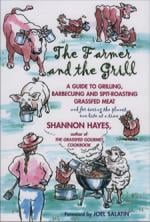 Like this book? Digg it!

Book Data
ISBN: 9780979439100
Year Added to Catalog: 2008
Book Format: Paperback
Book Art: Black and White Illustrations
Number of Pages: 168
Book Publisher: Left to Write Press
Release Date: April 15, 2008
Web Product ID: 365
The Farmer and the Grill
A Guide to Grilling, Barbecuing and Spit-Roasting Grassfed Meat...and for saving the planet one bite at a time
Foreword by Joel Salatin
Recipes specially devised to bring out the best in nutritious, Earth-friendly, pasture-raised meats.
In her first book, The Grassfed Gourmet Cookbook, author and livestock farmer Shannon Hayes introduced a radically simple concept: sustainable practices like pastured-based farming translate into food that is tastier, healthier, and better for both people and the planet.
The key to getting the most out of pasture-raised meats, though, is understanding how to cook them properly. In The Farmer and the Grill, Hayes offers useful tips on grilling, barbecuing, and spit-roasting all cuts of pasture-raised meats: beef, lamb, pork, and poultry. Dozens of simple, straightforward recipes provide all the basic cooking instructions, plus directions on how to make a variety of herb rubs, marinades, and barbecue sauces to accompany the meats. Traditional techniques such as Southern barbecue and Argentine-style asado cooking will help readers grill like the pros. And specific notes from pasture-based farmers on dealing with natural variations in grassfed meats will ensure success every time.
Creative and mouth-watering recipes include Tamari-Orange Whiskey Kebabs, Grilled Steaks in a Cilantro-Olive Paste, and Rack of Lamb with a Spiced Fig Crust. Plus, special sidebars on choosing meats, basic cooking techniques, and other topics mean that socially conscious cooks will gain a real understanding of grassfed meat and why it is starting to occupy a central place on the American dinner plate.
Tamari-Orange Whiskey Kebabs

Serves 6


1 cup orange juice
3 cloves garlic, minced
1/2 cup bourbon whiskey
1/4 cup olive oil
3 tablespoons Dijon mustard
1/4 cup honey
1/4 cup tamari
1/4 cup cider vinegar
1/2 medium onion, minced
1 tablespoon fresh ginger, minced
2-3 pounds beef kebabs
(alternatively, use a London broil sirloin, sirloin, sirloin tip, top round, or eye round, cut into 1 1/2- inch cubes)
Metal skewers, or bamboo skewers soaked in water for 30 minutes