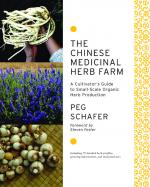 Like this book? Digg it!

Book Data
ISBN: 9781603583305
Year Added to Catalog: 2011
Book Format: Paperback
Book Art: 4-color
Dimensions: 8 x 10
Number of Pages: 336
Book Publisher: Chelsea Green Publishing
Release Date: November 28, 2011
Web Product ID: 643
Also in Gardening & Agriculture
The Chinese Medicinal Herb Farm
A Cultivator's Guide to Small-Scale Organic Herb Production
Foreword By Steven Foster
Peg Schafer offers practical advice for anyone wanting to grow organic Chinese herbs, either in their home garden or to sell on a larger scale. There is no other book that takes on organic Chinese herb production in such an in-depth way. . . . Whether you intend to farm, or simply garden, The Chinese Medicinal Herb Farm is a book manifest through years of persistent sweat equity that furthers our collective knowledge of growing Chinese herbs in America, once a dream, now an ever-increasingly established reality.

—Steven Foster, author of A Desk Reference to Nature's Medicine and Herbal Emissaries: Bringing Chinese Herbs to the West
Including 79 detailed herb profiles, growing information, and medicinal uses
A leading light in the field of medicinal herb cultivation, The Chinese Medicinal Herb Farm is the first cultivation guide of its kind, and presents invaluable information for growers interested in producing high-quality efficacious herbs in all climates of the US, with the historical connectedness of ancient practitioners.

It has become increasingly important—especially as the market for herbal medicine continues to grow—that we transition to local and domestic medicinal cultivation. Increasingly there are concerns in regards to not only the quality but the purity of imported herbs, and wild herbs picked for medicinal purposes are ever more endangered than in past years both at home and abroad.

Peg Schafer, longtime grower and teacher, guides readers with information on propagating, cultivating, and harvesting Chinese herbs, and presents fascinating new scientific data that reveal the age-old wisdom of nature and the traditional systems of Chinese medicine. Through 79 detailed herb profiles—all tested and trialed on Schafer's certified organic farm—Schafer offers easy-to-follow information, suitable for both growers and practitioners, for growing efficacious wild-simulated herbs. Also included is important information on species conservation, crop integration, and how to avoid the introduction of invasive species. Sidebars on traditional medicinal uses for each herb and delicious recipes are also featured throughout.

Vegetable and CSA farmers will find this book of greatinterest for adding value-added crops to their repertoire, and beginner growers looking to incorporate medicinals into their gardens will find this an invaluable guide to understanding where herbal medicine comes from, and will make eating-your-medicine more accessible than ever.