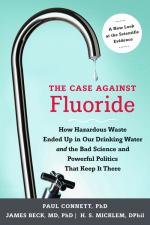 Like this book? Digg it!

Book Data
ISBN: 9781603582872
Year Added to Catalog: 2010
Book Format: Paperback
Book Art: Tables, charts, graphs
Dimensions: 6 x 9
Number of Pages: 384
Book Publisher: Chelsea Green Publishing
Release Date: October 1, 2010
Web Product ID: 535
The Case Against Fluoride
How Hazardous Waste Ended Up in Our Drinking Water and the Bad Science and Powerful Politics That Keep It There
Upcoming Author Events
Paul Connett's Events
LOWELL, MA

ROCKPORT, ME

April 28, 2014, 12:00 pm

Paul Connett at Maine Resource Recovery Association

Samoset Resort, Rockport ME

Paul Connett will keynote at the Maine Resource Recovery Association's annual conference on April 28-29 in Rockport, Maine.

ORILLIA, ONTARIO, CANADA

August 22, 2014, 12:00 pm

(tentative) Paul Connett at Ontario's 1st Zero Waste Conference

, Orillia Ontario, Canada

Details to come.
James Beck's Events
Spedding Micklem's Events

US Orders Only.
International Orders: Click here.
Additional Information
Paul Connett's Upcoming Events
Paul Connett at the Massachusetts Sustainable Campuses & Communities Conference


UMass Lowell Conference Center, Lowell MA

April 17, 2014, 12:00 pm

Paul Connett at Maine Resource Recovery Association


Samoset Resort, Rockport ME

April 28, 2014, 12:00 pm

(tentative) Paul Connett at Ontario's 1st Zero Waste Conference


, Orillia Ontario, Canada

August 22, 2014, 12:00 pm