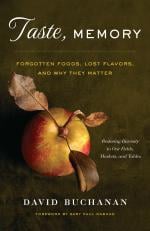 Like this book? Digg it!

Book Data
ISBN: 9781603584401
Year Added to Catalog: 2012
Book Format: Paperback
Dimensions: 5 1/2 x 8 1/2
Number of Pages: 240
Book Publisher: Chelsea Green
Release Date: October 11, 2012
Web Product ID: 697
Also in Food & Health
Taste, Memory
Forgotten Foods, Lost Flavors, and Why They Matter
Foreword by Gary Paul Nabhan
Praise
"In Taste, Memory, David Buchanan shares his quest to promote fruit and vegetable biodiversity in New England. 'Plant it to save it' is his mantra. In his thoughtful meditation and memoir, Buchanan reveals a powerful commitment to collecting and conserving the apples, blueberries, rutabagas, potatoes and other foods long part of this rocky and harsh landscape. As important, though, is his clear-sighted understanding of the necessary innovations that will be required to preserve the fantastic Baldwin apples, Bordo Beets and Amazon Chocolate tomatoes not just for this generation, but for the next seven generations. An important book."

—Amy B. Trubek, author of The Taste of Place: A Cultural Journey into Terroir
"David Buchanan takes on his subject, some of it prickly, with grace and eloquence. Taste, Memory is hard to put down. It is beautiful read that illuminates the challenges to and importance of biodiversity, a subject that David frames with our taste buds and personal food histories. A wonderful book, and an important one!"

—Deborah Madison, author of Vegetable Literacy and Local Flavors
"A Greek proverb states, 'A society grows great when old men plant trees whose shade they know they shall never sit in'. David Buchanan's book about food, agriculture, community, and connections to soil and climate, embodies the spirit and vision of the Greeks. Beyond weaving an engaging narrative about farming, the past twenty years of his life reflect the extraordinary changes occurring in American agriculture and a rediscovery of taste and quality in food. We are indeed fortunate that, as a young man, he has many years to plant apples, peaches, and other notable foods!"

—Jeffrey P. Roberts, author of The Atlas of American Artisan Cheese
"Taste, Memory is not the typical storybook novel about finding redemption on an isolated old farm, but a 21st-century success story built around collaboration, innovation, and vibrant new models for sustainable farming. David's book helps us explore agricultural models past and present, in order to help us find our own unique niche, rhythm and flow in the emerging local food economy. His ability to help us appreciate the nuances of heirloom crops and regional flavors reminds us that we can help to preserve agricultural and food traditions for the future...one seed, one bite, and one backyard at a time!"

—John Forti, garden historian, "The Heirloom Gardener"
"With a scientist's intellect and the heart of a 21st-century Noah, David Buchanan goes beyond biodiversity to explore the true place of Taste, Memory, a sensory experience that ties all of mankind together at life's dinner table. Using taste as his compass, Buchanan uncovers authentic endangered flavors, making us all long for another serving."

—Poppy Tooker, New Orleans food activist and host of "Louisiana Eats"
Buchanan shows us that reconnecting with the sources of our food reconnects us with what it means to feel alive. His unbridled enthusiasm for all things agricultural—from a forgotten peach variety to the proper soil balance for a rooftop farm—is infectious.

—Curt Ellis, FoodCorps
"Every peach, every turnip, every ear of corn becomes a local food in the fullest sense when gardeners and fruit growers opt for regional advantage. There are stories to be told here, be it the lore of the Fletcher Sweet apple or the enduring affair of 'that blonde' cucumber from the Boothbys. How well David Buchanan weaves the human element into this celebration of plant selection and provincial cuisine. Good eating goes hand in hand with our dance with place. Let Taste, Memory bring appreciation for varietal delight to your dinner table."

—Michael Phillips, author of The Holistic Orchard and The Apple Grower
"Taste is one of the great joys in life, a sense and sensibility that all of us share. But it is a common pleasure we are in real danger of losing, as our modern world seems bent on a collision course with ever greater homogeneity and the lack of distinctive local flavors and cultures. "In this thought-provoking book, David Buchanan captures taste experience from whence it once flowed, from an overpowering, life-enhancing diversity."

—Tom Burford, orchardist, historian, and author of The Apples of America
"As we increasingly seek to reconnect to our agrarian roots and restore our relationship with the land, we need guides who have been down the path before us and already negotiated some of the tangles along the way. There is no better guide than David Buchanan. Taste, Memory is the captivating work of a writer who is alert to the world around him and ready to learn from it. Buchanan's elegant celebration of the 'ongoing conversation', as he calls it, between generations of heirloom food plants and the families that have lovingly kept them alive, will inspire a new generation to nurture the happy marriages of plants and place that make communities lively, resilient, and deeply meaningful."

—Rowan Jacobsen, author of Fruitless Fall and American Terroir
"Taste, Memory may well be the most beautiful book ever written about food biodiversity and how it has 'landed' on earth, in our mouths and in our hearts. Once you have read and digested David's book, you will never again regard this two-word phrase as an abstraction, but as a vital element of our common food heritage, one that continues to nourish and enrich our lives."

—Gary Paul Nabhan, from the Foreword