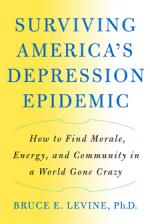 Like this book? Digg it!

Book Data
ISBN: 9781933392714
Year Added to Catalog: 2007
Book Format: Paperback
Dimensions: 6 x 9
Number of Pages: 240
Book Publisher: Chelsea Green Publishing
Old ISBN: 1933392711
Release Date: October 15, 2007
Web Product ID: 380
Surviving America's Depression Epidemic
How to Find Morale, Energy, and Community in a World Gone Crazy
Unlike pharmaceuticals, this book is an anti-depressant that works. When depression is a reaction to a depressing culture, all the drugs in the world can't numb us to the truth that health—whether mental, physical, or spiritual—is about wholeness. This is the message we should be getting from our preachers, politicians, doctors, teachers, and therapists. What a rare, welcome, and timely message.

—Rev. Davidson Loehr, author of America, Fascism, and God
Millions of us have experienced periods of low morale, struggled to find cheer in the day-to-day world, and then found ourselves pacified into believing the smooth-talking spokesperson in yet another medication ad. We've all heard them, there's no denying the fact that these ads have made each of us wonder: Do I suffer from depression? Would I be happier and healthier if I simply consulted my physician and requested (insert drug name here)?
The rate of clinical depression in the U.S. has increased more than tenfold in the last fifty years. Is this epidemic properly being addressed by the insurance, pharmaceutical, and governmental powers-that-be or exacerbated by a failing system focused on instant results and high profit margins? Dr. Bruce E. Levine, a highly respected clinical psychologist, argues the latter and provides a compelling alternative approach to treating depression that makes lasting change more likely than with symptom-based treatment through medication.
Surviving America's Depression Epidemic delves into the roots of depression and links our increasingly consumer-based culture and standard-practice psychiatric treatments to worsening depression, instead of solving it. In an easy-to-understand narrative style, Dr. Levine prescribes antidotes to depression including the keys to building morale and selfhealing. Unlike short-term, drug-based solutions, these antidotes foster a long-term cycle where people rediscover passion and purpose, and find meaning in acting on their societal concerns.
A groundbreaking work, atypical of the shelf-loads of "pep-talk" based self help books on the market, Surviving America's Depression Epidemic provides the knowledge and counsel of a practicing psychologist in a digestible format that will improve your future. A must read for guidance and pastoral counselors; non-dogmatic psychologists, psychiatrists, and social workers; and those tired of the TV ads shilling for better living through chemistry.