Small-Scale Dairy and Cheesemaking Set
This is the must have set for any dairy and cheesemaker. It will guide you in the conscientious management and the production of safe farm fresh milk to the process behind the art and science of making your own artisan cheese masterpieces.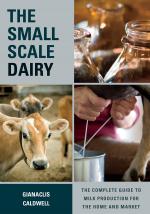 The Small-Scale Dairy is the one book you'll need in order to successfully produce nourishing, healthy, farm-fresh milk. Applicable to keepers of cows, goats, or sheep, the book offers a holistic approach that explores the relationships between careful, conscientious management and the production of safe, healthy, and delicious milk. Whether you have a one-cow home dairy, a fifty-goat operation, or are simply a curious consumer, The Small-Scale Dairy is an accessible and invaluable resource.
Acclaimed cheesemaker Gianaclis Caldwell has written the book she wishes existed when she was starting out. Every serious home-scale artisan cheesemaker even those just beginning to experiment will want this book as their bible to take them from their first quick mozzarella to a French mimolette, and ultimately to designing their own unique cheeses.
This comprehensive and user-friendly guide thoroughly explains the art and science that allow milk to be transformed into epicurean masterpieces.