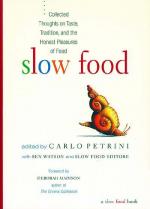 Like this book? Digg it!

Book Data
ISBN: 9781931498012
Year Added to Catalog: 2001
Book Format: Paperback
Book Art: contributor's list
Number of Pages: 7 x 10, 280 pages
Book Publisher: Chelsea Green Publishing
Release Date: September 1, 2001
Web Product ID: 269
Also By These Authors
Slow Food
Collected Thoughts on Taste, Tradition, and the Honest Pleasure of Food
Foreword by Deborah Madison
Excerpt #2
Chapter 1: Building the Ark by Carlo Petrini

Those of us who work in the wine and food industry are continually faced by the worrisome fact that small purveyors of fine food and good wine are fast diminishing, while vegetables, fruits, and products that belong to our heritage are being systematically squeezed out of production. At the root of the problem lie confused agricultural policies that fail to take natural bio-rhythms into account and narrow-minded health regulations thought up for large companies and imposed on small producers. Woe betide the noble class of gourmets if they continue to neglect this catastrophic trend. On December 2, 1996, at the Taste Fair at Turin Lingotto, Slow Food organized a conference on "An Ark of Taste to Save the Universe of Savors." This conference was organized as part of a concerted effort to oppose that state of affairs. We have invested the effort with a symbolic name: the Ark, a protective receptacle for quality products that should be saved from the deluge of standardization and worldwide distribution. It is our view that, rather than pay homage to the logic of macroeconomics, we should operate within a regional framework and promote new forms of "slow" production and supply. This is perhaps the only possible quality guarantee that pays due respect to agriculture around the world.

MATERIAL CULTURE
"There is a desperately serious genocide of taste and I believe that we should intervene, not least because food is closely bound to agriculture, agriculture to the countryside, and the countryside to culture, And when we speak of culture we are obviously not referring to culture as am treasures, but material culture, which is infinitely more vast -- it is humanity's overall behavior, what gives meaning to human existence. And taste is something that gives meaning."
-- Luciana Castellina, Chairman of the European Parliamentary Commission for Culture

QUALITY OF LIFE
"Speed and the general rat race force rush upon us, but this should not stop us from doing everything we can to defend the traditions, products, and habits of our country This is something that not only manufacturers who refuse to standardize consumer products should try to pursue, but also local and national public institutions... To say that we should protect the production of 'cultural assets' simply not enough. For this to happen we must raise the necessary economic resources. Just claiming that certain characteristic cultivars and certain local processes should be preserved will get us nowhere. We need to make sure that those directly involved in such preservation can count, on a reasonable quality of life."
-- Enzo Ghigo, President of the Piedmont Regional Council
I am aware that there are conservative implications in the idea of an Ark. It is an over-simplification to advocate support for only homemade products and small purveyors as an absolute value, thereby overlooking existing industrial companies that operate honestly and deploy their entrepreneurial skill in an environmentally friendly way. The great risk is that we will end up in a world of our own, cut off from highly complex processes. This is an error that we should avoid. It is wrong to remain stuck in the past without looking beyond our noses. Yet that will certainly be our fate if we lose touch with basic common sense. We have much to learn from the worldwide Slow Food movement.

I am also convinced that "playing a defensive game" is not a mistaken policy at this particular moment in time. If the flood is on its way, the only solution is the Ark. The storms ahead herald death and destruction, and if we fail to realize this, our marketing, community policies, and clever intuitions will be of little use. We must build the Ark as soon as possible.

Information is the first issue. What we need to do is look after small, high-quality food purveyors from the source through to consumption. This means implementing a process of awareness that is a reward for the producer and a guarantee for the buyer. Those in the trade must be aware that they are bearers of culture. The pride and satisfaction thus derived, and the recognition of results thus achieved, are bound to contribute to a general increase in professionalism. We, the gourmets, the wine and food publicists, must do our utmost to give dignity to these makers of food culture.

As for the "sacred fire" of hygiene, if it is not handled cum grano salis, a tremendous gulf will be created between institutions and producers.

Safeguarding and improving agriculture and local food purveyors calls for resources. Change in the European Community (EC) contributions policy -- no longer paying a system that destroys, but paying those who work conscientiously and professionally -- has long been overdue and will take time and effort to implement. Frankly, at the moment I am fairly skeptical about it.
For our own part, we are working on another front, trying to involve those who choose, try, judge, and consume. This project cannot take off if we do not convince consumers to pay more for better products. It is high time we put an end to the demagogy of price. For years it has been little more than an alibi for those who produce low-quality goods in large quantities.

s u g g e s t i o n s

The following are some practical suggestions.

The first one derives from an idea expressed by Italian parliamentarian Carmine Nardone: the adoption of 1,500 fruit-trees that are facing extinction. Slow Food Arcigola is asking wine producers to take on this project In our vineyards, let's try to re-create something of the environment we inherited from our forebears by planting fruit trees in between the rows of vines. This could be done in the Langhe region in Piedmont, in the Valpolicella and Chianti Classico areas, in the gardens and green areas of the wine-producing towns. We would thus be establishing the first eco-museum. in Italy, a living exhibition that will give these trees a chance to survive. It's a question of saving genes in the golden age of biogenetics.
NEW VALUES
"I believe that a nation's wine and food traditions are part of its cultural identity However, concrete action is necessary to raise awareness of this in daily political activity... The disappearance and standardization of tastes the lack of interest, in characteristic flavors are part of a more generalized standardization of values and the consequence of various dominating non-values.... So the problem is not that of building on Ark of taste for an elite, bur, of redefining a new scale of values."
-- Willer Borden, Heritage and Environment Undersecretary for the Italian Government
Second suggestion: a code for the Ark. We believe that the words Castelmagno, San Daniele ham, and Grana Padano stand for a heritage to be proud of That is why we urgently require legislation that recognizes quality food products as part of a cultural heritage that should be safeguarded and appreciated. Those who work hard to pass on their knowledge and culture to future generations deserve such recognition.

Third, we believe it is essential to get a campaign of taste teaching underway. This is one of the main reasons for the existence of our organization, Slow Food Arcigola, which has always recognized and affirmed the cultural value of sensory training. Much knowledge is to be gained through the taste buds and the mucous membrane in the nose, and attaining such knowledge is an experience that is closely related to pleasure. Pleasure of this sort implies moderation and awareness and is an integral aspect of health. Moreover, all these factors together are essential to taste, which means pleasurable learning and wise enjoyment.
If we abide by such measures, we should manage to weather the forthcoming deluge. But once the Ark has fulfilled its task, it should be destroyed. We do not want to live in the Ark. Once the waters have withdrawn, we shall step out onto land and, like Noah, plant our vines. Just like him, we shall indulge *in some redeeming drunken revelry. Our children will doubtless laugh at our inebriation. However, among them there will be ones who, with the strength and conviction of a member of Slow Food, will take care of us and lovingly cultivate the vine.

a m e r i c a n a r k p r o d u c t s

An Ark product can be animal or vegetable, for example, the Red Abalone and the Gilfeather turnip. It might even be mineral, supposing a sea salt were deemed worthy of inclusion. Or it could be a food such as Creole cream cheese, produced by artisans using time-honored methods. In some cases, an Ark product will be a dawning tradition or a new creation that captures regional flavors and heritage.

To qualify as a passenger on Slow Food U.S.A.'s Ark, a product must possess these characteristics:

* Must be a unique, high-quality product with excellent flavor.
* Must be at risk or extinction -- of being lost in the world of standardized food
* Historically, socioeconomically, or culturally, must be tied to a precise territory or locality (products are often named after their place of origin).
* Must be in limited production (although a potential for increased production is desirable).
* If a refined or crafted product (such as smoked meat or aged cheese), then must be prepared according to specific techniques that reflect tradition or an innovative interpretation of traditional methods.
* Must be symbolically important as a regional food

No product containing generically modified raw materials and no transgenic breed or plant will qualify for the Ark.

The Ark U.S.A. Committee will set up a data bank and collect information about cultivars, breeds, products, and producers, as well as about shops and restaurants that are selling Ark products.

Slow Food's intention is not to create a food museum but instead to develop a lively marketplace for endangered foods. Because we recognize that food culture is regional, not national, we expect Ark products to have strong regional identities. Regional foods have deep meaning in local culture and have significance far beyond nostalgia and sentimentality. In a country as large and diverse as the United States, it is likely that Ark products from Vermont will be completely unfamiliar to people who live in Tucson or the Silicon Valley.

The Ark will not become a brand name, and Slow Food will not become a "middleman." Our goal is simply to shine the spotlight on small producers of high-quality, regional foods and to identify the markets and restaurants where these products are available. Where there is the need, Slow Food U.S.A. will create Presidia to help connect producers with consumers or restaurateurs. The Presidia can also encourage small specialty growers by helping to ensure fair prices for rare foods that have not been grown or produced because they are not deemed economically viable. The well-being of these growers and producers is intensely important to the Slow Food movement.

For more information, or to nominate a food to the Ark, please contact the Slow Food national office at to Box 1737, New York, NY 10021; telephone (212) 988-5146.