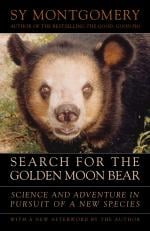 Like this book? Digg it!

Book Data
ISBN: 9781603580632
Year Added to Catalog: 2008
Book Format: Paperback
Book Art: Color photo insert
Dimensions: 5 1/2 x 8 1/2
Number of Pages: 336
Book Publisher: Chelsea Green Publishing
Release Date: July 14, 2009
Web Product ID: 451
Search for the Golden Moon Bear
Science and Adventure in Pursuit of a New Species
With a New Scientific Addendum by Gary Galbreath, PhD
"Intrepid Montgomery and Galbreath travel to perilous Southeast Asia on a chase that involves more captured than wild animals, the nerve-racking collections of bear hairs for DNA analysis, and a soul-wrenching immersion in the harsh reality of the illegal wildlife trade (second only to drugs in scope and violence) and the tragic lives of endangered hill tribes. Their suspenseful search takes them to corrupt Thailand, chaotic Laos, and bloodied Cambodia, land of at least four million land mines, vast mountain forests, sun and moon bears, and people who kill them for their medicinally useful body parts. What Montgomery witnesses in terms of animal and human suffering gives her nightmares and will make her readers shudder, but her riveting chronicle is not without hope, rich as it is in adventure, discovery, profiles of heroic wildlife specialists, bear lore sacred and scientific, humor, and a subtle but pervasive spirituality."

—Booklist (Starred Review)
Sy Montgomery has already shared with readers her amazing encounters with great apes, man-eating tigers, and pink river dolphins, but her latest muse is an animal whose name and appearance evoke another world altogether. Southeast Asia's golden moon bear, with its luminous coat, lionlike mane, and Mickey Mouse ears, was unknown to science—until Montgomery and her colleagues got on the trail at the dawn of the new millennium.
Search for the Golden Moon Bear recounts Montgomery's quest—fraught with danger and mayhem—to reconstruct an evolutionary record and piece together a living portrait of her littleknown subject. This beautiful animal is not just a scientific eureka! It is also a powerful symbol of conservation. Search for the Golden Moon Bear is a field report from the frontiers of science and the ends of the earth, seamlessly weaving together folklore, natural history, and contemporary research into fantastic travelogue.