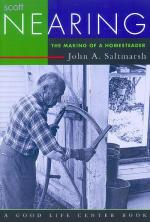 Like this book? Digg it!

Book Data
ISBN: 9781890132217
Year Added to Catalog: 1998
Book Format: Paperback
Book Art: b&w photographs, notes, bibliography, indexindex
Number of Pages: 6 x 9, 352 pages
Book Publisher: Chelsea Green Publishing
Old ISBN: 1890132217
Release Date: October 28, 1998
Web Product ID: 271
Scott Nearing
The Making of a Homesteader
Preface
Preface to the Second Edition
Creating Lives of Integrity

When I went to Forest Farm early in the summer of 1995, it had been more than a dozen years since I had first made my way to Maine to interview Scott Nearing, late in his 99th year. At that time, his wife Helen was guiding him steadily toward a conscious and deliberate death, and I, as a young graduate student, was asking questions - in hindsight, often naive and uninformed - that would lead to this biography. I returned years later, drawn back by persistent questions to the presence of Helen, now 91 years old and blossoming.
My reconnection with Helen that summer of 1995 dissolved in sorrow at her death in an automobile accident late in September, just as she was preparing for a tour to promote what would be her last book. That Helen was ready to go, even looking forward to her "next adventure," hardly compensated for the deep sense of loss. Yet my time with Helen that summer, along with the emotional turmoil following her death, allowed me to reflect upon the meaning of the Nearings' lives, to ask again what it is about these two people that influences and inspires so many.
Perhaps the defining feature of their lives was the fundamental consistency of living according to their values, living in a way that combined the personal and the political, integrating simple living with social justice, creating lives of integrity. Homesteading as practiced by the Nearings - building, gardening, energy self-reliance, using local indigenous resources - embodies our highest aspirations for principled, sustainable living.
The Nearings' legacy demonstrates that living a life of integrity, reconciling a personal and a social identity, can provoke meaningful social change. The connecting thread between Scott's early life as an economist at the University of Pennsylvania and his later life as a conscientious homesteader is the principle of non-exploitation, which defined his notion of social justice from his earliest days as an academic. The exploitation of children as workers addressed in The Solution of the Child Labor Problem, a book Nearing wrote in 1911, finds broader expression, decades later, in a life of austere simplicity and homesteading based upon non-exploitation of humans, animals, the land, and all of nature. Living the practice of non-exploitation meant including both humans and non-humans as members of the community, and also meant pursuing the political logic of non-exploitation through pacifism, vegetarianism, and environmentalism. "We desired to liberate ourselves," the Nearings wrote in 1954 in their most famous book, Living the Good Life, "from the cruder forms of exploitation: the plunder of the planet, the slavery of man and beast, the slaughter of men in war, and animals for food." What the Nearings called "the good life," expressed a politics of praxis: "one's personal conduct may either follow the belief pattern or diverge from it . . . The most harmonious life is one in which theory and practice are unified."
Although he wasn't writing about the Nearings or homesteading, Wendell Berry could have been addressing their situation when he discussed the possibility of individuals living in protest, rather than simply engaging in acts of protest. It is "in the long run richer in promise, to remove oneself as far as possible from complicity in the evils one is protesting, and to discover alternative possibilities." How could one be true to one's beliefs and conscience in one's daily life? Berry continues:
To make public protests against an evil, and yet live dependent on and in support of the way of life that is the source of the evil, is an obvious contradiction and a dangerous one. If one disagrees with the nomadism and violence of our society, then one is under an obligation to take up some permanent dwelling place and cultivate the possibility of peace and harmlessness in it. If one deplores the destructiveness and wastefulness of the economy, then one is under obligation to live as far out on the margin of the economy as one is able: to be as economically independent of exploitive industries, to learn to need less, to waste less, to make things last. . . . If one feels endangered by meaninglessness, then one is under an obligation to refuse meaningless pleasures and to resist meaningless work, and to give up the moral comfort and the excuses of the mentality of specialization.
(The Long-Legged House, 1969, p. 76-92.)
One way to do this, Berry suggests, is "to reject the dependencies and the artificial needs of urban life, and to go into the countryside and make a home there in the fullest and most permanent sense." This was the choice made by the Nearings in 1932 in an attempt to create "a subsistence homestead economy."
Prior to their homesteading experiment, Scott had already spent decades both developing a clearly defined ideology and engaging in active political dissent and protest. He wrote pamphlets and made speeches, engaged in civil disobedience and ran for public office, and he endured arrests, legal persecution (under the Espionage Act in 1918), firings (from two universities), and expulsion (from the Communist Party in 1930). All his early political struggles were defined by the negative; they were against some values and practices associated with social and economic exploitation. That political stance shifts dramatically when Helen and Scott commence to live the good life, when they live their political beliefs, when they live in protest. At that point the politics of simple living is no longer a negative reaction but a positive commitment. As they wrote in Living the Good Life, "we were seeking an affirmation, a way of conducting ourselves, of looking at the world and taking part in its activities that would provide at least a minimum of those values we considered essential to the good life."
It is that affirmation that lives on in the Nearings' writings and at Forest Farm itself, with the creation of The Good Life Center, in keeping with Helen's wishes. For thousands of readers freshly intrigued by the prospect of fashioning a conscientious, meaningful way of life, the Nearings will continue to raise the example, and the exacting standard, of life lived closely to deeply held social and personal values. Their example will make complacency with our compromises ever so uncomfortable, and it will inspire principled action beyond our own homes.
I still make an occasional trip to Forest Farm, seeking grounding and inspiration on my own life's journey. It provides a sense of wholeness. It is a place that nurtures both the example and the possibility of a life of integrity. I can see now that my first visit to Forest Farm years ago was indeed a pilgrimage in the best sense, leading to discovery and transformation, defined by both venturing and returning. No pilgrimage is complete until the pilgrim returns home to tell his story as a way of re-composing both the self and the world. This biography is the story I've tried to tell, begun on that first pilgrimage.

John Saltmarsh is one of the founders of The Good Life Center, the Nearing's former homestead in Harborside, ME. He is an associate professor at Northeastern University in Boston with a joint appointment in the departments of Cooperative Education and History. He has been a Visiting Research Fellow at the Feinstein Institute for Public Service for Providence College. He resides in Wayland, MA.