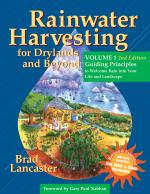 Like this book? Digg it!

Book Data
ISBN: 9780977246434
Year Added to Catalog: 2011
Book Format: Paperback
Dimensions: 8 1/2 x 11
Number of Pages: 304
Book Publisher: Rainsource Press
Release Date: June 13, 2013
Web Product ID: 679
Rainwater Harvesting Vol. 1, Second Edition
Guiding Principles to Welcome Rain into Your Life and Landscape
I've been looking for a book like this for a long time. That is, one that will tell me, armed with a shovel and not a great deal of mechanical fussing or back-straining, to begin saving rainwater immediately. And in the process, save money, salve my conscience, and, best of all, come out ahead with a greener life.

—Peter Wild, U.S. Water News
Best Indie Books of 2013 by Kirkus Reviews in the Nonfiction category
2013 USA Best Book Award in the General Home category
The award-winning Rainwater Harvesting for Drylands and Beyond, Volume 1, 2nd Edition: Guiding Principles to Welcome Rain into Your Life and Landscape is the first volume of a three-volume guide on how to conceptualize, design, and implement sustainable water-harvesting systems for your home, landscape, and community. This book enables you to assess your on-site resources, gives you a diverse array of strategies to maximize their potential, and empowers you with guiding principles to create an integrated, multi-functional water-harvesting plan specific to your site and needs.
This revised and expanded second edition increases potential on-site harvests with more integrated tools and strategies for solar design, understanding your water/energy/carbon connections, water/erosion flow patterns and their water-harvesting response, and updated illustrations to show you how to do it all.
Volume 1 helps bring your site to life, reduce your cost of living, endow you with skills of self-reliance, and create living air conditioners of vegetation growing beauty, food, and wildlife habitat. Stories of people who are successfully welcoming rain into their life and landscape will invite you to do the same!